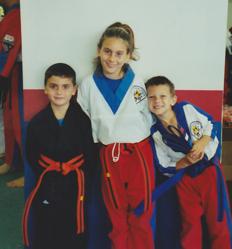 Achieving goals is fun!
(PRWEB) October 05, 2011
Seventh degree black belt and master instructor, Rick Iannuzzo has trained tens of thousands of students throughout his career and has noticed the great hand- eye coordination improvement they have made while training at his karate school. Stephen Lembo, a student of Iannuzzo's, has made significant progress with his eye hand coordination as a result of his martial arts training.
Lembo struggled with mastering basic hand-eye coordination skills but after training with Iannuzzo, his skills have improved and he is currently one of the top players on his varsity basketball team and has outstanding ball handling skills.
Lembo is a living testament to how early development of motor skills is essential to a child's overall development. Acquiring theses skills such as hand-eye coordination at an early age enables children to do more complex things when they get older
Iannuzzo's Karate School recognizes the importance of hand-eye coordination in children. The martial arts program at the school teaches children techniques and multiple movements that help them utilize hand-eye coordination skills.
Unlike other organized sports that require some players to "sit out," the martial arts program requires constant movement and physical activity throughout the entire class. Lessons focus on working the dominant side that children use and the non-dominant side, furthering coordination development all around.
Blocks, punches and kicks are aimed at participants, forcing them to quickly use their skills to defend themselves. Movements that cross the body, transitioning from left to right, help develop hand-eye coordination.
Iannuzzo's Karate School has also developed a website that allows these motor skills to develop from home. Children can participate in the online program and develop motor skills while earning a black belt without leaving the comfort of their own home. Forums on the website and personal trainers help to further develop skills and answer any concerns that children or parents may have.
Internationalkarateschool.com is designed for men, women and children of all ages. The program enables Martial Arts enthusiasts to earn black belts in the comfort of their own home and on their own time. To learn more about the online karate programs available please visit internationalkarateschool.com
By Jackie Dresch
###