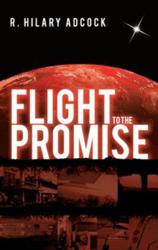 San Diego, CA (PRWEB) October 04, 2011
The first rule of writing is often "write what you know." It is advice author R. Hilary Adcock has taken to heart. "I have lived it," Adcock says of his new novel "Flight to the Promise" (published by WestBow Press). "I was saved and walked away until Jesus called me back. And I have seen many people lose sight of their spiritual life, lost and wandering without hope. I pray for them but am driven to do more. I want them to open their spiritual eyes and come home to Jesus. I did."
It was this "drive to do more" that sparked the writing of "Flight to the Promise," a Christian-themed drama that follows four men as society moves closer to the tribulation. Unbeknownst to the men, they have been drawn together by a plan authored and directed by God.
Readers meet Chester Hamilton Rawlins, a flight instructor from a blue collar family; David Scott Adams, an architect with a failed practice and marriage; Matthew Solman, an accountant and trial-test Christian; and Thomas Lincoln Winslow, the son of a wealthy family who loathes his life. Through tragedy, joy, bankruptcy and wealth the four characters struggle through particular stages of faith and redemption.
Reviews for "Flight to the Promise:"
"Flight to the Promise is a fast-moving, faith-based page-turner with no apologies."
—D. David Morin, filmmaker and author of God Is Not a Smart Planner
"In my twenty years of knowing the author, I have come away with several insights into his life – the most important of which is his unquenchable pursuit and hunger to make Jesus known."
—John Pacilio, minister and author of Just as It Is in Heaven
Stand On: The Hope of the Promise, the follow up novel to "Flight to the Promise," will be released soon.
About the Author
R. Hilary Adcock is an architect, a general aviation pilot and a Christian. His firm consults on projects in Arizona, California, Colorado, New Mexico and Nevada. His personal relationship with Jesus has survived life's failures and victories since his salvation in 1969. He currently lives in San Diego with his wife and children.
WestBow Press is a strategic self-publishing alliance of Thomas Nelson, the world's premier Christian publisher, and Author Solutions, Inc. (ASI)—the world leader in the fastest-growing segment of publishing. Through this partnership, authors benefit from the rich publishing heritage of Thomas Nelson and the speed-to-market advantages of the ASI self-publishing model. Titles published through WestBow Press will be evaluated for sales potential and considered for publication under the Thomas Nelson imprint. For more information, or to start publishing today, visit westbowpress.com or call 866-928-1240.
###