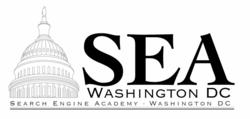 "When you attend and complete a five day SEO Mastery course with us, you're ready to either hang out your shingle as an independent SEO consultant, or you can put this on your resume to be considered for in-house SEO specialist positions."
Washington, DC (PRWEB) October 03, 2011
Search Engine Academy Washington DC offers training for a new career in search engine optimization (SEO) through its' five day SEO Mastery Certification course. According to Nancy E. Wigal, the owner and operator of SEA DC, "For anyone wondering how to find a new career, I encourage them to explore SEO. The internet isn't going away, and companies understand now that the only way to get high visibility and exposure on the internet is to make sure their site is fully optimized to search engine webmaster standards and guidelines."
The five day course teaches basic and advanced SEO techniques and processes to anyone who is wondering how to make a career change quickly. Attendees learn basic and advanced keyword research, external and internal linking strategies, writing useful, valuable content that informs the human reader of what she needs to know, blogging and much, much more.
SEO is a growing career field. More businesses are putting up websites every day, and in order for them to get the most online visibility and targeted, highly qualified visitors, need to be optimized for good search engine results. This is a full time job that requires a dedicated specialist to keep up with the constant search engine algorithm changes, master the new processes as the internet matures and interpret web site performance data and analytics to continually optimize individual pages for better search results.
"Not only is the demand high for SEO professionals who can get natural, or "organic" search results, it's also right up there for those gifted individuals who can master the Pay Per Click function as well. We also teach our students how to do PPC with Google Adwords," said Nancy.
"The American Jobs Act talks about expanding opportunities for people through innovative training programs. Ours is innovative in that we teach you all the basic and advanced SEO skills anyone needs to start a new career as an SEO specialist, and we do it five days," according to Nancy.
Classes are scheduled monthly. Interested individuals and organizations may also schedule their own SEO classes at their convenience by contacting SEA DC. "Any person or group that needs to find training for a new career in SEO should contact me to see if we help anyone who is contemplating a career change at 40 or 50 years old," remarked Nancy.
SEA DC has training facilities in Northern Virginia, Washington DC and Maryland. In addition, SEA DC comes to any organization's location to teach the five day SEO course on site. People who are changing careers at 50 or 40 years old can be taught either at these locations, or any other suitable facility within the Washington DC region. "I've been known to go to individual's homes and train them one on one. They really benefit from the individual attention and get more knowledge about what it's like to be an SEO specialist," said Nancy.
Attendees bring an internet-ready laptop and a passion for learning SEO to the five day SEO mastery course. SEA DC provides the course materials. The SEO training combines classroom lecture with hands-on exercises to allow students immediate application of the information presented. At the end of the SEO class, attendees take an online exam. They must score a 76% or better to pass the test and receive their basic and advanced SEO certification.
In addition, students also receive six months' SEO mentoring at no extra charge. "And for those who wish, I've created a Work Study Program that's currently also free to anyone who completes a five day SEO course. I give folks a little bit of real-world experience to put on their resume to give them an extra boost when competing for work," Nancy said.
Anyone seeking a career change after 40 or 50 should contact SEA DC to see if this career field is right for them. Organizations that offer new career training are encouraged to talk to Nancy about partnership opportunities to train and certify individuals in SEO.
"When you attend and complete a five day SEO Mastery course with us, you're ready to either hang out your shingle as an independent SEO consultant, or you can put this on your resume to be considered for in-house SEO specialist positions. The work is out there, and companies are looking for folks who can apply SEO to their sites," according to Nancy.
About the Search Engine Academy Washington DC: The Academy offers two, three and five-day SEO training and certification for web and technical professionals. The Academy also creates and teaches customized corporate training packages for businesses to implement in-house SEO functionality, or improve their current SEO program. SEO consultation is also available by contract agreement.
###