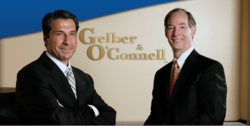 Buffalo, NY (PRWEB) October 03, 2011
The Personal Injury Attorneys of Gelber & O'Connell, LLC engage in many community service initiatives to provide a helping hand to the neighborhoods they serve and are committed to making community service a priority.
Gelber & O'Connell has most recently joined forces with Channel 2/WGRZ in an extensive campaign against drinking while driving. The campaign was created to bring a broad awareness of the dangers involved in drinking while driving. Gelber & O'Connell is reaching out to the community to be attentive to the significant dangers of all forms of distracted driving.
Herschel Gelber & Timothy O' Connell believe it is their duty to give back to the communities they serve. In addition to the Pledge 2 Not Drink and Drive Campaign, the firm has been proudly involved with the following public service oriented campaigns, organizations and activities:

THNK B4 U TXT Campaign (One of several Co-Sponsors with Channel 4/WIVB and sister station CW23/WNLO in their anti-texting initiative)
Phoenix Frontier (Ongoing support to help people with disabilities gain meaningful employment)
Christmas is for Kids Program (Sponsor with 97 Rock radio station)
Language to Literacy Program (Buffalo Hearing and Speech Center)
Carvings for A Cause/Re-Tree WNY (Post-October 2006 Ice Storm)
Hurricane Katrina's Animal Victims Charity Event (Supporting Humane Society and ASPCA)
Aspire of Western New York
Susan G. Komen "Race for the Cure"
Niagara Hospice (Million Dollar Duck Derby)
The law firm has developed a reputation for maintaining high ethical standards while aggressively representing clients throughout Western NY in Personal Injury legal matters. The firm's attorneys are focused on providing the personal attention that injury victims and their families deserve. They take the time to get to know every client and focus on meeting his or her individual needs.
About the Firm
Gelber & O'Connell has attorneys serving clients in communities throughout Erie and Niagara Counties who have suffered serious personal injuries or lost a loved one in an automobile, truck or motorcycle accident or other incident due to the negligence or wrongful conduct of another person. The firm's attorneys have been recognized by the Best Lawyers in America and New York State Super Lawyers and are members of the Million Dollar Advocates Forum. The firm offers legal services based on years of experience and proven results to champion the rights of personal injury victims and help their clients obtain full and fair compensation for the losses they have suffered. Gelber & O'Connell is made up of lawyers who sensitively guide the injured people they serve and their families through the emotional upheaval that follows an accident, while at the same time generating exceptional outcomes for them.
Partners Herschel Gelber & Timothy O'Connell are proud of their firm's accomplishments and community initiatives.
For more information about Gelber & O'Connell, please go to http://www.gelberoconnell.com. For the firm's website contact page click here or call 716-633-5050. Become a fan of Gelber & O' Connell and "Like" us on Facebook.
YOUR "PERSONAL" PERSONAL INJURY LAW FIRM
###