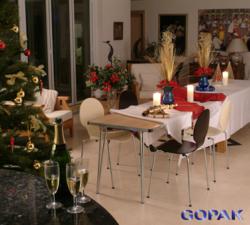 Guarantee a stress-free festive holiday with Gopak
(PRWEB UK) 1 October 2011
Turn the tables this year with a stress-free Christmas courtesy of Gopak.
As one of the most complex culinary challenges you'll undertake, the big family Christmas dinner requires precision planning and careful consideration. Cooking the meal itself is a complicated operation, without even beginning to consider how you'll fit family and friends around your dining table.
Much like the dinner itself, preparation is vital when it comes to organising table settings. To make this Christmas run as smoothly as possible, a comfortable seating plan is a must and a sufficient number of spaces at the table is key.
To guarantee a stress-free festive period, ensure you are prepared to accommodate all those extra guests. Gopak, the UK's leading supplier of folding tables, has a solution that will ensure all guests get a seat at the table this Christmas. The Contour folding table can seat unexpected guests, protect your favourite furniture and create vital space when you need it most.
For a number of years, the lightweight and stylish Contour folding table has been a favourite for schools all over the UK. Its innovative design and multi-use abilities have helped to translate this success to the domestic market where it offers the ideal solution for Christmas gatherings.
As well as its attractive finish, the Gopak Contour folding table is also water resilient so any inevitable wine or water spillages can be quickly and easily cleaned up. The top is so resistant in fact, that it can be used all year round for years to come and still look and perform as good as new.
Suitable for indoor and outdoor use, Contour folding tables can be used for a whole host of other situations around the home. And when the time comes to put it away, it's simply a case of folding and storing it ready for next time.
Christmas with the Contour folding table is a far cry from guests kneeling around the coffee table or eating dinner from a precariously positioned wallpaper table. With a host of sizes and colours available, and a range of matching benches and chairs, Gopak presents the dining room solution that will deliver for many Christmases to come, as well as all year round.
###