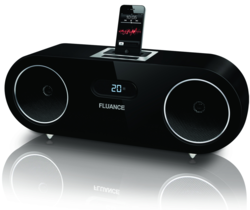 "We're confident that this new product brings fashion and function together to create an unbeatable product."
Niagara Falls, Ontario (PRWEB) October 01, 2011
Fluance is proud to announce the newest addition to its product line – the FiSDK500 High Performance Music System for iPod/iPhone. This elite, flawlessly-made music system has an elegant lifestyle design, and is a testament of Fluance's devotion to exceptional audio products.
Building on the success of the Fluance brand, the FiSDK500 offers the high fidelity sound quality you would expect from a home theater system in a compact unit made for an iPhone or iPod. "This is the first iPod speaker dock with audio-grade wood cabinet and high-quality components to be introduced at this price point" said Deepak Jain, Managing Director. "We're confident that this new product brings fashion and function together to create an unbeatable product." Two full-range woofers, ultra high-end tweeters, a powerful built-in amplifier, composite input and output jacks, and a sleek polished piano-black finish make this product a unique addition to the dock market.
In August 2011 the Fluance FiSDK500 was awarded the 2011 CustomRetailer EXC!TE Award to recognize its excellence in quality and design.
Fluance sells this Music System directly for the unbeatable price of only $199.99 at http://www.Fluance.com.
About Fluance
Fluance is a Canadian-based speaker brand owned by CWD Limited that produces high-end home theater systems. Established in 1997 and based in Niagara Falls, Ontario, it markets to both USA and Canada. A relatively new contender in the home theater business, Fluance prides itself on pushing cutting-edge technology to its limits and using only high-grade parts in the construction of its speaker systems. All the while, Fluance encourages its customers to buy direct, which bypasses the middleman and allows the company to sell its products to consumers at prices well below those of its main competitors. Fluance Speakers can be purchased directly at http://www.Fluance.com.
# # #