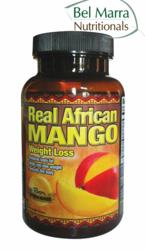 "The key to the product is irvingia," says Dr. Wong. "The African mango seed extract promotes weight loss by exerting an effect on the way your body metabolizes nutrients and stores fat. These results have been confirmed in numerous clinical trials."
Toronto, ON (PRWEB) October 03, 2011
Bel Marra Nutritionals is pleased to announce the launch of Real African Mango Weight Loss, a natural supplement designed to support weight loss and fat metabolism. Designed by Dr. Alwyn Wong, this revolutionary new product includes 100% certified Irvingia gabonensis, which is African mango seed extract.
The key to Real African Mango is not only the inclusion of the certified 100% irvingia, but also the correct dosage that is equal to that used in the trials.
"During the formulation process, we realized that similar products weren't using the certified seed," adds Jim Chiang, President of Bel Marra Nutritionals who worked with Dr. Wong in formulating Real African Mango. "We made it a priority to include the certified irvingia and to replicate the dosage in the clinical trials. If we did any less, we would seriously doubt the effectiveness of the product."
The clinical trials that Chiang and Dr. Wong are referring to were a 10-week study that showed an average of 28 lbs of weight loss with no harmful side effects.
"The African mango seed extract reduced leptin levels by 48%" Dr. Wong explains. "Leptin is a fat-balancing hormone that occurs naturally in your body. Essentially, leptin is what tells your body that you're full after a meal."
" But according to the research, people carrying an extra 20 pounds or more are no longer sensitive to leptin. As a result, their appetites soar and their bodies get stuck in fat storing mode. What African mango does is reduce leptin resistance, allowing your body to resume burning fat, naturally."
"It's a real breakthrough," concludes Dr. Wong, " because this could eliminate the need for those looking to lose weight to rely on other remedies that use fiber, stimulants or appetite suppressants, which really aren't an ideal long-term solution."
Bel Marra Nutritionals, provides Doctor formulated safe and effective nutritional supplements. Building our solid reputation by offering customers high-quality nutritional supplements designed to address specific health concerns. All of the ingredients in our products are backed with scientific evidence and made to the meet or exceed federal quality guidelines. More information on Bel Marra Nutritionals can be found on their website at http://www.belmarra.ca
Dr. Alwyn Wong a member of Bel Marra Nutritionals Scientific Advisory Board and Lead Researcher on Real African Mango Weight Loss. He has been an expert in the health and fitness industry for over fifteen years and brings with him a wealth of experience. He uses an integrated treatment approach, combining active release techniques (ART®), acupuncture, chiropractic, nutritional consulting, and program design to treat his patients, many of whom have included professional athletes from the NFL, NHL, NBA, MLB, and PGA, as well as Olympic athletes.
More information on the Real African Mango is available at http://www.realafricanmango.com.
###