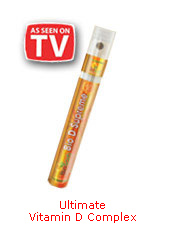 "The bottom line is, I absolutely believe the number one health issue facing Americans today is Vitamin D deficiency..." says Kris Kile, Vitamin D Researcher
Chino, CA (PRWEB) October 03, 2011
BioSorb Nutraceuticals proudly announces the most powerful Vitamin D formula on the market today, featuring a patented Oral Spray Technology, which takes on the huge problem of inadequately absorbed Vitamin D. BioSorb's Spray Technology delivers a 90% rate of Vitamin D absorption, ten times more effective than taking a Vitamin D supplement pill, and it does this without stimulants and their harmful side effects.
Historically, Vitamin D has been generated by our bodies through outdoor sun exposure. However, due to advances in technology which promote a more sedentary and indoor lifestyle people are not getting enough sun exposure. And, even those who increase their sun exposure find themselves in a "Catch 22" - they want to utilize their natural ability to generate Vitamin D, but also know that sun exposure can cause skin cancer, so they tend to use very powerful sun screens which counteract the ability of their skin to absorb the Sun's rays which is how the body generates Vitamin D.
"The bottom line is, I absolutely believe the number one health issue facing Americans today is Vitamin D deficiency..." says Kris Kile, Vitamin D Researcher, he continues, "but, maybe even a bigger problem has to do with people being able to absorb the Vitamin D pill itself."
According to the Physician's Desk Reference for Nutritional Supplements, only 10% - 20% of the nutrients in pills are absorbed into the bloodstream.
After finding this massive deficiency in current and modern nutritional delivery systems, Kris Kile and BioSorb Nutraceuticals put themselves to the task of resolving this issue. Now, after three years of research and testing to determine the optimum D formulation, they have completed development of the solution to the ineffective 10% - 20% "pill" system and have implemented and released their proprietary D formulation with its critical cofactors and optimizers, along with the Spray Technology that allows an astonishing 90% rate of absorption. That's up to ten times the absorption of a standard Vitamin D pill.
BioSorb Nutraceuticals is taking action against Vitamin D deficiency by releasing Bio D Supreme™, a breakthrough Vitamin D delivery system that utilizes their Patented Spray Technology.
Bio D Supreme™ is a non-prescription supplement formulated to provide the nutrition necessary to improve and maintain immune, heart, colon, prostate, bone, cardiovascular, breast, blood sugar, and joint health. The synergistic use of pure Vitamins A, B6, B12, D3, K2, Folic Acid, Zinc, and Boron, combined with maximum absorption technology, ensure the body can fully realize the positive effects of Vitamin D. Bio D Supreme™ is available to purchase at:
https://www.biodsupreme.com
BioSorb Nutraceuticals is a growing force in the nutritional industry who continues to partner with leading scientists and researchers in the field. BioSorb specializes in developing "clinically tested" formulas and services focused on meeting the needs of the human brain. BioSorb is privately owned and is headquartered in Austin, Texas.
*These statements have not been evaluated by the Food and Drug Administration. This product is not intended to treat, cure, or prevent any disease.
###