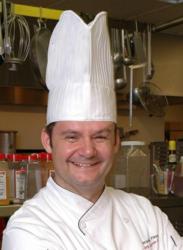 I recognize what an important role school chefs play. We help to shape the food preferences and eating habits of growing children and I take that responsibility very seriously.
Rye Brook, New York (PRWEB) October 04, 2011
With culinary innovation at the core of its operating philosophy and a movement towards better school food a national priority, Flik Independent School Dining has tapped Christian J. Fischer as its Corporate Executive Chef to move forward the independent school foodservice provider's programming.
"Flik's operating philosophy is to deliver customized, innovative and healthful food programs to the independent school communities we serve," says Ray Mulligan, President of Flik Independent School Dining. "To maintain this philosophy, we require a Corporate Executive Chef on our management team who will push forward a visionary culinary agenda. I am happy to announce that Christian Fischer has accepted this position. Christian's responsibilities will include: collaborating with the management team to develop innovative culinary and nutrition programming; implementing culinary operation plans and systems; and conducting regional and company-wide culinary meetings to share his vision with Flik's team of school chefs and mentor them to be culinary leaders within their regions and local school communities."
Born in pastoral Eastern Austria to parents who managed a hotel, Chef Christian learned to appreciate quality cuisine at a young age. He knew he wanted to be a chef by the time he was eight years old. Christian began is culinary career with a five-year apprenticeship at the five-star Stenizer Hotel and became a Certified Master Chef, Baker and Butcher.
Chef Christian opened his first restaurant in his hometown at the age of 19 and expanded his culinary expertise by working in Turkey, Italy, Greece and other European countries. He is one of an elite handful of European Master Chefs.
Since coming to the United States, Christian has owned a four-star restaurant in Connecticut and most recently held the position of Corporate Executive Chef for Lackmann Culinary Services, which provides foodservice for private clubs, educational and corporate institutions, and government agencies. Lackmann is where Fischer's passion for feeding young adults began, as he realized what they eat has a profound effect on their physical and mental development and how they feel from day to day.
"I recognize what an important role school chefs play. We help to shape the food preferences and eating habits of growing children and I take that responsibility very seriously," says Fischer. "I look forward to guiding Flik's culinary vision for serving fresh, wholesome food that has been responsibly-sourced to kids in a fun and innovative way. With the school food movement at its height, I also look forward to mentoring a team of 130 chefs to provide the healthiest, best-tasting food served in American schools today."
Amongst his many honors, Fischer was inducted into the Le Amis d'Escoffier Society in 2000, the Organic Chefs Collaboration in 2004, the "Who is Who" Society of Manchester in 2006, and made it to the top ten list of the Top Chefs of 2009 by the Chef2Chef.net culinary community. Chef Christian's culinary expertise has landed him appearances in several television series and documentaries, including Ming Tsai's East Meets West, the Discovery Channel's A Traditional New England Thanksgiving and the Travel Network's Great Taste.
Christian Fischer lives in Kensington, Connecticut with his wife, Jennifer, 14 year old son, Stefan, and nine year old daughter, Ting.
About Flik Independent School Dining
Flik Independent School Dining, a division of the Charlotte, NC-based Compass Group, provides dining services for over 130 private schools nationwide. Their team of food and nutrition experts is dedicated entirely to creating fun, healthful and innovative dining solutions for private and independent school communities. Fresh, healthful food preparation utilizing batch cooking techniques and locally and sustainably-sourced ingredients has always been the cornerstone of the company's operating philosophy. For more information, visit http://www.FlikISD.com.
###