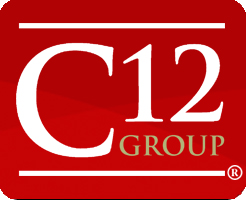 Greensboro, NC (PRWEB) October 01, 2011
The C12 Group, America's leading provider of Christian CEO and business owner roundtables since 1992, reports a surprising positive impact from adoption of Biblical servant leadership principles. C12 President and CEO, Don Barefoot, reports that "both public research data and C12's own historical experience clearly demonstrate the practical performance benefits of such leadership, in addition to the eternal implications." C12 has roughly 1000 members across nearly more than 60 metro areas in 30 states. C12 members dedicate one day each month to a peer advisory board and one-on-one counsel to learn, sharpen their skills, and receive spiritual refreshment, accountability and counsel. They focus on business excellence as well as ministering to those they touch through the normal conduct of business. C12 member companies are generally privately-held firms with annual revenues ranging from $1 million to $1 billion.
Over the long-term, C12 has seen the proven impact of the peer sharpening and lifelong learning according to best practices consistent with Biblical principles through its members' results. A 1995-2005 study comparing contemporaneous C12 member company performance against 350 small-to-midsized American leadership companies from research sponsored by The Business Roundtable revealed a remarkable performance advantage for the typical C12 company versus their non-C12 peers. This difference showed up impressively in a head-to-head business comparison of annual sales and profit growth rates. Even though C12 member companies certainly focus on more than just annual financial performance, they outperformed the broader economic benchmarks quite sharply with average 10-year revenue and profit growth rates which were more than triple those reported by the "leadership companies" (i.e., 15.2% vs. 4.2%, and 22.1% vs. 8.5%, respectively).
C12's Barefoot said, "This data shows that leading businesses according to Biblical principles is quite compatible with achieving top-notch performance according to pure business metrics. But this is only a small part of the overall picture. Improved business performance also provides a growing platform from which C12 member companies can share Christ's love with those they serve." Barefoot continued, "These performance conclusions are consistent with findings from the substantial long-term public company research reported by Jim Collins in his best-selling book, Good to Great, which corroborates the breakthrough impact of long-term servant leader CEOs. One of the common distinguishing traits of the 11 'great' companies that stood out above all others in Collins' study of more than 1400 public companies over three decades was the presence of a humble, but firm CEO operating with a diligent and persevering focus according to unwavering core values." "Further," says Barefoot, "a December, 2010 Barna Group survey of 1022 American adults found that those who support or prefer to do business with apparently 'Christian' companies significantly outnumber those who avoid doing business with them due to their 'faith connection,' by 14-to-1. In the end, timeless truth will always prevail!"
The C12 Group was founded in 1992 by Buck Jacobs, a Christian CEO and author. C12 is a growing network with more than 100 groups meeting in 65 metro areas across America. Monthly peer advisory meetings and one-on-one sessions are held to discuss a wide range of highly relevant and challenging topics that challenge members to be excellent servant leaders and stewards.
If you would like more information on The C12 Group, please go to http://www.C12Group.com or contact C12's Home Office (336-841-7100 or info(at)C12Group(dot)com).
The C12 Group
4101 Piedmont Parkway
Greensboro, NC 27410
Phone: 336-841-7100
info(at)C12Group(dot)com
http://www.C12group.com
###