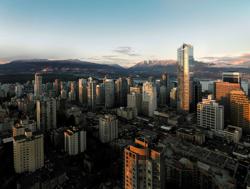 CHI, The Spa at Shangri-La draws inspiration from the traditional Chinese philosophy
Vancouver, British Columbia (PRWEB) October 01, 2011
Spas of America, a leading spa travel website showcasing the best Spa & Wellness experiences in North and South America, today announced the launch of CHI, The Spa, located in the Shangri-La Hotel, Vancouver. The Asian-inspired 119-room luxury hotel, located in vibrant downtown Vancouver, BC, occupies the first 15 floors of a 61-storey landmark building, the tallest in the city.
"Shangri-La is one of the world's premier hotel companies, consistently setting the luxury bar on a global stage, says Spas of America president Craig Oliver. "And now the CHI concept of a "spa within a spa" environment with five individual treatment suites and one spacious couple's suite is taking spa travelers to a new level of spa and wellness - in the center of one of the most beautiful cities in the world."
"CHI, The Spa at Shangri-La draws inspiration from the traditional Chinese philosophy, "chi" or "Qi", a universal life force that governs well-being and personal vitality offering guests a place of personal peace, enchantment and well-being," says Khanita Trinidad, Spa Director of CHI, The Spa at Shangri-La Hotel, Vancouver. "We are excited to showcase our authentic spa experience to Spas of America's targeted Spa & Wellness audience."
A signature treatment of CHI, The Spa is the Pearl Radiance Facial. Pearls have been used for health and beauty for over 2,000 years and are known to contain clarifying and brightening nutrients that help skin's vitality. Using very fine pearl powder - just one thousandth of a millimetre - enables a higher absorption rate. This treatment also includes a tension releasing back massage, a pressure point face massage and an antioxidant face compress for maximum radiance. For more information on the Chi Spa, Shangri-La Vancouver please visit:
http://www.spasofamerica.com/spas/shangri_la_vancouver
About Shangri-La Hotels
Hong Kong-based Shangri-La Hotels and Resorts, one of the world's premier hotel companies, currently owns and/or manages 72 hotels under the Shangri-La, Kerry and Traders brands, with a rooms inventory of over 30,000. Over almost four decades the group has established its brand hallmark of 'hospitality from the heart.'  The group has a substantial development pipeline with projects in Canada, mainland China, India,  Malaysia, Philippines, Mongolia, Qatar, Sri Lanka, Turkey and United Kingdom. 
About Spas of America
Launched in 2005, Spas of America is the largest spa travel website, showcasing over 750 of the best resort, hotel and destination spas in North America - to consumers around the world. Spas of America supports the growth of Spa & Wellness travel by providing consumers with a beautiful, clean, easy-to-use online experience. The website empowers customers to search for spas by map, name, keyword, experience or geographic region. Find Spas of America online at http://www.spasofamerica.com and follow us on Twitter at http://twitter.com/spasofamerica and join us on Facebook at http://www.facebook.com/spasofamerica
For more information, please contact:
Craig Oliver
President
Spas of America
craig(at)spasofamerica(dot)com
888.688.7727
http://www.spasofamerica.com
###