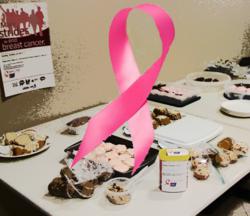 Whether through litigation or bake sales or raffles or walking, the Bubalo Rotman team is fighting breast cancer.
Louisville, KY (PRWEB) October 01, 2011
When the Making Strides Against Breast Cancer Walk was announced and materials were distributed, there was no question that members of the law firm Bubalo Rotman PLC would be participating in the event. The lawyers and paralegals in the firm have helped and are currently helping many clients suffering with breast cancer, and the families of those who have lost their battle. At Bubalo Rotman, there is a personal commitment to fight the disease.
Christine Fugate, Litigation Paralegal, volunteered to be the team captain, and she has energized the team to develop a full-fledged campaign.
The team grew beyond the walls of Bubalo Rotman and now includes family members, friends, friends of friends, and co-workers. Plus team members have encouraged other companies and organizations to offer matching donations.
Team Pink is currently raffling a variety of gift cards that were donated by local businesses. They held a bake sale in the office building where Bubalo Rotman has its offices. And Team Pink also plans to host an Ice Cream Social to raise funds.
When Walk-day arrives, the Bubalo Rotman team will be outfitted in "Team Pink" t-shirts to display their commitment. They will join with hundreds of other walkers who will honor Survivors and remember those who have been lost. And all will affirm the primary goal: to eradicate breast cancer for future generations.
The Making Strides Against Breast Cancer Walk will be held in Louisville, KY, on Sunday, October 23 at the Louisville Waterfront Park. Registration begins at 11:30 am and the walk begins at 1:00 pm.
###