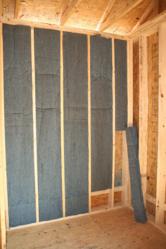 Buildings insulated with Cotton Armor™ are quieter, safer places to live, work and enjoy while saving energy dollars.
Webberville, MI (PRWEB) October 01, 2011
Applegate's new Mr. Insulate® Cotton Armor™ is revolutionizing the insulation industry by combining one of man's earliest insulations - Cotton fiber synthesized with modern technology and experience. Cotton Armor™ provides real world sustainability, safety, R-value, sound deadening and ease of sizing and proper installation. Made from a minimum of 85% recycled content (mostly cotton denim) this custom engineered "non-itch" cotton blanket insulation contains an environmentally safe proprietary fire retardant and needs no personal protection during installation. With all these key benefits, plus the fact that it meets or exceeds industry and "green" standards with up to 11 LEED Credits, Applegate's revolutionary Cotton Armor™ sets itself apart from existing batt insulation technology.
Cotton Armor's™ innovative manufacturing process results in a unique fiber layout, which provides many unique and tangible benefits for installers and homeowners. Installers value its ability to be quickly custom sized by hand or cut with a utility knife; and the fibers provide better rebound and stiffness than most other batts. Cotton Armor™ blanket insulation maintains its shape and thickness after sizing and installation better than most batts. It is right sized for 16" o.c. and 24" o.c. residential and commercial framing, which combined with its rigidity and rebound significantly reduce compression, gaps and voids which can significantly decrease performance. A proper fitting insulation increases the real world thermal and sound attenuation performance; for example an R-13 Cotton Armor™ insulated wall, which with its proprietary fiber layout, has an Sound Transmission Class (STC) rating of 52, while a typical fiberglass insulated wall has an STC rating only in the mid to high 30's.
Cotton Armor™ insulation is engineered specifically for home and commercial construction where energy savings, sound control and environmental safety are of utmost importance. Buildings insulated with Cotton Armor™ are quieter, safer places to live, work and enjoy while saving energy dollars. Cotton Armor™ is commonly preferred by professional installers and homeowners who are concerned with energy efficiency and the environment. The newest hybrid, combing cotton and modern technology, Cotton Armor™ results in a truly green insulation solution that is safe, fast and easy to install.
Established in 1978, Aaron and his son Terry Applegate began manufacturing cellulose insulation out of a small facility in Okemos, Michigan. Today, Applegate headquartered in Webberville Michigan, is the largest privately-owned cellulose insulation manufacturer in the world, and supplies a variety of insulation products throughout the United States. Applegate currently operates facilities in Michigan, Wisconsin, Pennsylvania, Kentucky, Georgia, Louisiana, and Colorado. For additional information regarding Applegate Insulation please visit http://www.ApplegateInsulation.com to learn more about Cotton Armor™, visit http://www.MrInsulate.net, or call (855) 6-COTTON.
For editorial interviews, additional information, testimonials, photographs, and industry specs please contact:
Dave Renbarger, 855-6-COTTON email: mrinsulate(at)mrinsulate(dot)net
###