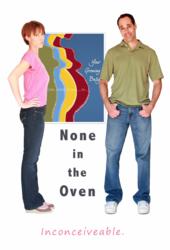 Los Angeles, CA (PRWEB) October 04, 2011
Actress Kristen Sullivan and her husband had been struggling with unexplained infertility for three years when she decided to channel her frustrations into creativity. She teamed up with writer-director Heather Hillstrom and producer Sarah Rath, whose background includes work in television and post-production.
Working nights and weekends and with the help of generous and talented friends, the three turned Sullivan's true stories of fertility treatments, awkward moments, and (often misguided) support into six webisodes. The webisodes will be posted online weekly.
"Infertility is rarely talked about in movies or on TV, yet most people know someone who has struggled with it in some capacity," Sullivan explains. "We saw an opportunity to make a web series that a lot of people could relate to – especially when we looked back and realized how funny our experiences had been."
The first episode of None in the Oven will be available for viewing on October 3rd at http://www.noneintheoven.com, with the remaining five episodes becoming available on the following Mondays.
About None in the Oven:
Parenting magazines, hand-me-down baby furniture, Angelina Jolie – Kristen (Kristen Sullivan) and Clay (Mark Bloom) are surrounded by new life, but their special delivery seems to be lost in the mail. Armed with treatments natural, pharmaceutical, and psychological, the couple weathers the storm of crowded fertility clinics, toddlers' taunting stares, and advice from friends with no personal boundaries in hopes that the proverbial stork will finally type their address into his GPS. Created by Kristen Sullivan. Produced by Kristen Sullivan, Heather Hillstrom, and Sarah Rath. Photographed and edited by Sarah Rath. Written by Kristen Sullivan and Heather Hillstrom. Directed by Heather Hillstrom.
For more information or stills from the series, visit http://www.noneintheoven.com/press. For a video preview, email Noneintheoven(at)gmail(dot)com. To schedule an interview, call Kristen Sullivan at 818-720-5749 or email Noneintheoven(at)gmail(dot)com
###