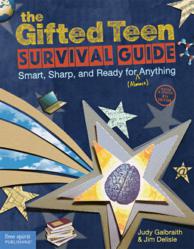 Offers specific, often pithy advice. This updated edition . . . feels fresh and timely. An intelligent, entertaining look at the unique and not-so-unique issues that gifted teens face.
—Kirkus Reviews
Minneapolis, MN (PRWEB) October 03, 2011
From the experts who pioneered books for gifted kids' social and emotional needs comes the revised and updated fourth edition of THE GIFTED TEEN SURVIVAL GUIDE: SMART, SHARP, AND READY FOR (ALMOST) ANYTHING (Free Spirit Publishing, $15.99)—the ultimate guide to thriving in a world that doesn't always support or understand high ability.
Written by experts in gifted education Judy Galbraith, M.A., and Jim Delisle, Ph.D., THE GIFTED TEEN SURVIVAL GUIDE has been the go-to resource for gifted teens since the first edition was published in 1983. For the update of the fourth edition, Galbraith and Delisle surveyed nearly 1,400 gifted teens to find out what they are interested in reading about. According to the survey . . .

70% of respondents said they want to know more about brain development and how the brain works.
66% of respondents want to know what IQ and achievement test scores do—and do not—mean.
50% of respondents want to know how to get teachers to be more flexible (for example, letting students test out of material they already know, skip some repetitive assignments, and/or pursue alternatives to traditional assignments).
Based on the survey results, the book has been revised to include new topics and information on twice-exceptionality, emotional and social intelligence, intensities, creativity, teen brain development, study habits, perfectionism, International Baccalaureate programs, college financing, STEM careers, internships, social networking, cyberbullying, existential crises, and more.
THE GIFTED TEEN SURVIVAL GUIDE comes at a time when gifted education in the United States and other parts of the world is under fire or being ignored. Many school districts, faced with shrinking budgets and cutbacks, have dropped their gifted programs altogether. Tighter budgets mean fewer qualified teachers and heavier workloads, and that means fewer opportunities to give gifted kids the individualized and challenging education they need and deserve. Galbraith and Delisle help teens take charge of their education, with information on understanding content standards, knowing their rights as students, relating to teachers, and exploring options such as homeschooling and virtual learning. Full of surprising facts, real quotes from teens, and new expert essays, the book gives readers the tools they need to appreciate their giftedness as an asset and use it to reach their full potential.
With more than a quarter-million copies of prior editions in print, THE GIFTED TEEN SURVIVAL GUIDE is essential reading for gifted teens, their parents, teachers, counselors, and anyone who cares about smart, talented, curious young people.
Softcover and eBooks versions are available at http://www.freespirit.com.
Note: Previous editions of this book were titled The Gifted Kids' Survival Guide: A Teen Handbook.
About the authors
Judy Galbraith, M.A., has a master's degree in guidance and counseling of the gifted. She has worked with and taught gifted children and teens, their parents, and their teachers for over three decades. In 1983, she started Free Spirit Publishing, which specializes in Self-Help for Kids® and Self-Help for Teens® books and other learning resources. She is the author of numerous books, including The Gifted Kids' Survival Guide: For Ages 10 & Under. Judy lives in Minneapolis, Minnesota.
Jim Delisle, Ph.D., has taught gifted children and those who work on their behalf for more than thirty years, including twenty-five years as a professor of special education at Kent State University. The author of more than 250 articles and sixteen books, he is a frequent presenter on gifted children's intellectual and emotional growth. Jim lives in North Myrtle Beach, South Carolina.
About Free Spirit Publishing
Headquartered in Minneapolis, Minnesota, Free Spirit is the leading publisher of learning tools that support young people's social-emotional health and their educational needs. Free Spirit's mission is to help children and teens think for themselves, succeed in life, and make a difference in the world. For more information, visit http://www.freespirit.com.
THE GIFTED TEEN SURVIVAL GUIDE: SMART, SHARP, AND READY FOR (ALMOST) ANYTHING (REVISED & UPDATED 4TH EDITION)
ISBN 978-1-57542-381-4 / $15.99 / Softcover / 272 pp. / two-color, illust. / 7" x 9" / Ages 11 & up
###