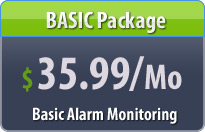 Arizona October 1/2011 (PRWEB) October 01, 2011
Most of the conventional home security systems depend on the domestic power supply and telephone line to execute their function. This system is equipped with an advanced cellular back up technology and derives the required power from a set of independent batteries.
This is the most exciting feature of this product because it allows the system to remain functional even if there is no power or when the phone lines are down.
Their wireless security system can control almost everything within a house, and users can even talk to a monitoring agent of ADT from any room. Some of the most popular equipments include the burglar alarm siren, motion detectors, wireless sensors for the door and window, digital keypad with display, remote keychain security device, and ADT yard signs.
The high pitch burglar alarm start the moment any burgling activity is detected by the system and the siren is loud enough to alert the entire neighborhood. Interestingly, their specially designed boards and signage has also been successful in keeping burglars away.
The motion detector devices are immune to pets, and designed to detect the slightest of movements anywhere in the house.
The door and window sensors provide additional security option according to customer's requirement. Tone verification system sends an alert whenever they are opened. The remote keychain security system is a tiny remote device with a 'panic button'. This device can be used to activate the security system from car, lawn or anywhere else in the house.
In addition to burglar detection, this system is also equipped to connect to the local police station, fire station, and paramedics. This wireless security system can also inform about an emergency when the house owner is away.
The company has a group of technically sound installation technicians. The installation process is hassle free and does no harm to the aesthetics of the house. The biggest advantage of the system is that nothing goes unnoticed by the 24x7 monitoring system. They have three packages priced between $35.99 per month and $44.99 per month. All packages are designed to offer perfect value for money to the customers.
About Your Alarm Now: Your Alarm Now is An ADT authorized dealer of home security systems. The company is run by industry experts with commendable technical skill and customer centric attitude. Please visit http://www.YourAlarmNow.com to find out all relevant information pertaining to this company based out of Phoenix, Arizona.
Contact: http://www.YourAlarmNow.com, 800-599-8452.
###