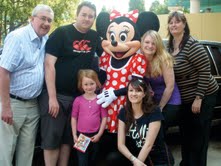 87% of franchisors are planning to expand in the year ahead and 9 out of 10 franchisees remain profitable
(PRWEB UK) 1 October 2011
The UK may be experiencing difficult economic times but not all business owners are having to cut back their lifestyle or scale down operations. Jasper's Newcastle franchisees Sue and Dave Burrow recently celebrated the fruits of their labours with an all-expenses-paid family trip to Disneyland. They are looking forward to their catering franchise turning over £700,000 next year and with the demand for their services so great, are planning to open their second Jasper's franchise in the North East.
Sue said: 'Jasper's is a really exciting franchise to own. Like any real business it is hard work, but the rewards are huge, and not just financial. No one day at Jasper's is the same as any other and our business customers are more like friends now. I wish I had taken the step into self employment years ago.'
Franchising is proving to be extremely resilient even in the current tough climate. The recent Natwest / British Franchise Association survey revealed that 87% of franchisors are planning to expand in the year ahead and 9 out of 10 franchisees remain profitable.
Founder and Director of Jasper's Corporate Catering, Nathan Siekierski, is confident that new franchisees to the network will succeed at a similar rate: 'With 15,000 businesses in each franchisee's exclusive territory there is enormous demand for catering services. A franchisee needs just 50 customers placing their average order each week to give £5,000 a week turnover – a figure that existing franchisees are achieving.
Nathan said: 'The key for Jasper's is securing the right people as franchisees. Sue and Dave Burrow typify this: motivated, dedicated, passionate about providing great food and customer service. The type of contracts they are winning – such as the £800k three year contract to provide on-site catering at the BIC in Sunderland - are testament to their hard work and enthusiasm for what they do.'
According to the Natwest / BFA survey, four out of five say being part of a franchise model offers them a competitive advantage over similar businesses that aren't. Appearing to be a larger business, standardised products/services and quality expectation were cited as the three main advantages.
Nathan said: 'Having a franchise puts someone in charge of their own ship in a fleet. They are no longer just an employee at the mercy of managers, HR departments or efficiency savings. Job security these days is not what it was, yet even in tough times, good franchise models are thriving.'
About Jasper's Corporate Catering
Jasper's Corporate Catering provides office catering for business events; as well as vending solutions and on-site catering such as workplace canteens, coffee shops and restaurants. Jasper's Corporate Catering now has 10 franchises across the UK, with more planned. Visit http://www.jaspers-franchise.co.uk
###