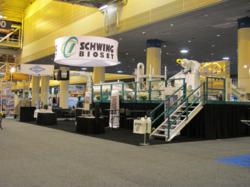 reducing operating costs by more than 20%, makes the Bioset System the most affordable Class 'A' solution on the market
Somerset, WI (PRWEB) October 01, 2011
After extensive testing and research, Schwing Bioset is proud to announce that the USEPA has given nationwide approval to the Bioset Process to reduce its operating temperatures from 70°C (158°F) to 55°C (131°F) as a Process to Further Reduce Pathogens (PFRP). Operating at 55°C (131°F) results in a greater than 20% reduction in operating costs for owners of the Bioset process. Prior to receiving nationwide approval, site-specific approval at one site in Texas had been granted.
The Schwing Bioset Process is a technology that continuously converts municipal biosolids into a Class A/EQ saleable product in full compliance with 40 CFR Part 503 Rule. The process mixes dewatered biosolids with calcium oxide (quicklime) and sulfamic acid (solid granular acid) and continuously pumps it into a plug flow reactor. The Schwing Bioset Process currently meets Class 'A' standards via pasteurization at 70°C for 30 minutes, and vector attraction reduction by maintaining an elevated pH.
At the elevated pH levels, ammonium contained within the biosolids evolves as ammonia, and the ammonia is maintained in solution with the biosolids in the pressurized plug flow reactor. Miscible contact of the ammonia with the biosolids enhances pathogen destruction to Class A/EQ standards at lower temperatures. Mixing is accomplished with Schwing Bioset's twin-screw feeder and the blended material is pumped into the plug flow reactor with Schwing Bioset's twin- cylinder positive displacement piston pump.
The combination of high temperature, high pH and the biocidal effects of ammonia ensure that the biosolids are pathogen free in accordance with Class A/EQ requirements. The end product is characterized as a lime enhanced soil amendment and is a valuable product for numerous land application markets. Because the Calcium in the Class A/EQ end product is readily available, soil pH adjustment occurs in less than half the time of what typical agricultural lime products require. An additional benefit of the end product is that the high percentage of organic content (35-55%) returns organic material to depleted soils.
###