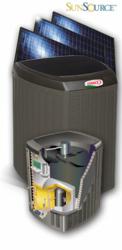 Frederick, MD (PRWEB) October 03, 2011
Holtzople Heating & Air Conditioning is pleased to announce the addition of two energy efficient systems to its HVAC lineup. Holtzople's diverse lineup now features geothermal systems from Trane and solar ready systems from Lennox.
Geothermal systems from Trane are known to be some of the most energy efficient systems available today and have been recognized by the Environmental Protection Agency as being one of the most efficient ways to heat and cool a home. Geothermal systems typically operate with such efficiency that they can return up to four dollars of heat for every dollar spent on electricity. These systems can also be configured to reduce the need for energy to heat water that is used for washing dishes, bathing, and laundry.
SunSource Home Energy Systems by Lennox harness solar energy from the sun to reduce the electricity consumed by residential air conditioner units or heat pumps. These systems also use that solar energy to operate other devices in the home that consume electricity, such as lighting and appliances, when the heating and cooling system is not running. In addition, if the SunSource system generates more power than is used by the home, that power will be sent back to the utility company - which may entitle the homeowner to a credit on their electric bill.
About Holtzople Heating & Air Conditioning: Holtzople Heating and Air Conditioning is a division of Holtzople's Incorporated, a family owned and operated Frederick, MD HVAC company for over 20 years. The company provides complete installation, repair and preventive maintenance agreements for residential oil and gas furnaces, boilers, heat pumps and air conditioning systems.
Media contact:
Jerred Holtzople
Holtzople Heating & Air Conditioning
1-866-500-4328
service(at)holtzople(dot)com
###