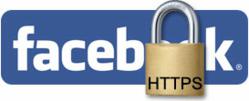 We've dedicated the resources to help 5,000 business owners secure their custom Facebook Fan Pages (or create a brand new page) during the month of October... in exchange for a small donation to help support our troops.
Denver, CO (PRWEB) October 04, 2011
Small business owners suffering from the sluggish economy and lagging consumer sales have a new challenge to overcome. According to the Facebook Developers blog, the social media giant recently implemented a security update which effectively blocks the custom Fan Pages of millions of businesses, making the pages unable to be viewed while in secure browser mode effective October 1, 2011.
This latest security update affects all businesses with custom Fan Pages, regardless of company popularity or size. Notably, the Coca Cola fan page which boasts nearly 34,500,000 fans has yet to be updated for secure browsing per the new Facebook requirement, resulting in visitors being greeted with a security warning message upon clicking the page's graphic image while in https mode (see attached screenshot).
As businesses scramble to abide by the update, Nike Media Group has agreed to make the necessary security changes for Business Fan Page owners affected by this unannounced lockout. And they're declaring that it will be done with the sole intent of concurrently helping struggling small business owners as well as our US Military families nationwide.
"Custom fan pages are an extremely valuable asset for every business, regardless of size or location, that is serious about implementing social media marketing to create buzz and increase profits," said Dan O'Connor of Nike Media Group.
Continuing on the topic of why business owners should be protective of their fan pages, O'Connor stated, "When done properly, it's such an easy and profitable way for businesses to connect with their customers or clients. After witnessing hugely successful campaigns of major corporations using customized fan pages, small businesses have entered the world of Facebook to gain a competitive edge in this lagging economy. However, if a visitor's first impression is a Facebook security warning, it's likely that they'll leave and won't give that fan page a second chance."
Blogosphere monitoring reveals that some service providers are reportedly taking advantage of custom fan page owner's panic by quoting fees in the $300-$500 range for securing desperate business owner's pages.
As a gesture of good will, the team of experts at Nike Media Group has agreed to perform all of the technical work associated with the security update for a nominal $100 fee, which will ultimately be donated to the renowned military support organization, USA Cares.
"We've dedicated the resources to help 5,000 business owners secure their Facebook Fan Pages during the month of October. We're even going a step further by purchasing a raffle ticket at http://www.USACaresRaffle.org on behalf of every business owner who requests our service as part of a combined effort to support our troops and their families in need. As a result, both business owners and our troops receive much needed help at the same time," concluded O'Connor.
So for a small donation, business owners will not only receive the peace of mind from knowing that their Facebook Fan Pages have been secured by competent professionals but they will also have a chance to win a $500,000 custom Colorado vacation home (or $200,000 in cash) during the 'Support Our Troops-Win A Home!' raffle to be held on Veteran's Day (11/11/11), courtesy of Nike Media Group.
O'Connor also added that any business wanting a newly designed Facebook Fan Page will also be taken care of in exchange for the same small $100 donation to help support our troops.
Business owners needing their custom Facebook Fan Page secured in order to meet the latest security update (but lacking the time or desire to struggle through the process themselves) are encouraged to visit http://www.NikeMediaGroup.com/fanpage as soon as possible.
Media Contact:
Brian Wilkinson
Toll Free: 877.228.1818
info[at]NikeMediaGroup[dot]com
###