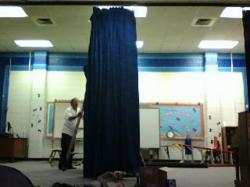 " This install went flawlessly due to the excellent communication between our staff with the folks at Mid-Atlantic " - Asst. Principal
Southport, NC (PRWEB) October 01, 2011
Mid-Atlantic Stage completed a one day installation project resulting from an order of stage curtains and track system for the 1960's era school.
The soft goods ordered included one valance complete with one block letter C in white, two main curtains and four additional side legs in Corn Flower Blue Memorable Cotton Velour.
"We were excited to see how the Cornflower Blue color the school's staff had selected was going to match the school's existing décor scheme," said Mid-Atlantic Office Manager Pat Ray who also pointed out that the existing curtains were decades old and due for replacement.
The company was on hand to install a new track system comprised of an ADC brand 170 Walk along rope operated track system. The new track system and drapes will function to partition the stage area and allow for a multi-purpose style space.
Before the installation this area was restricted to one single function; however with the stage curtains and track system in place the gymnasium will be used for drama performances, a gymnasium, and an assembly room in addition to the music room.
The school has also decided that they will rent the gymnasium out on the weekend for worship services. Costner Elementary had a stage area opening of 32 feet wide and total price for the install and purchase of goods fell within the $ 5,000-$7,000 range.
Mid-Atlantic Stage is a discount supplier of stage curtains and theatrical supplies with over 50 combined years of service in the design and installation of soft goods and hardware.
###