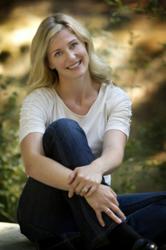 "Be Who You are and say what you feel, because those who mind don't matter, and those who matter don't mind." ~ Dr. Seuss
Nanaimo, BC (PRWEB) October 07, 2011
Children's Author Emily Madill has just launched her new website and blogs designed to empower others to believe in themselves. In Emily's Journey, some of the topics she writes about relate to life as a Mom.
Madill says: "My intention is to utilize this forum as a place to share my experiences, bumps, joys, losses and everything in between as a woman and human being travelling through life. My hope is to highlight that no matter what stage or walk of life we travel, we all share a common thread."
In Confident Kids Are Cool, Emily will cover topics geared for school-aged children and will offer up fun ideas and confidence-boosting activities for kids to feel good about who they are. Emily Madill says: "My intention is to have a resource available for children and their caregivers to practice the notion that having Confidence really is cool!"
Emily Madill is the author and publisher of the Captain Joe books ~ Confidence Boosting Stories for Kids. The Captain Joe Series© was designed as a tool for adults to teach children about constructive imagination. The four books are a fun and interactive way to introduce the concept of "Thoughts Turn into Things, so Choose the Ones that Make you Happy" to young children, ages five to nine years. Joe and his thought-zapping superpower will invite children to use their imaginations to constructively choose thoughts that promote healthy self-esteem and self-awareness. Each of the four stories is designed to boost children's confidence and teach a key concept.
Emily lives on Vancouver Island, BC with her husband and two sons. She has a degree in Business and Psychology. Emily believes in the importance of teaching children accountability and empowerment from a young age. Being a mother is the most creative job she has had to date. Her calling is to guide young people to create their authentic selves, and inspire them to embrace their individualism.
Emily's Books can be found on Amazon or through her new website at http://www.emilymadill.com/.
Read What Others Have to Say About the Captain Joe Books:
"The Captain Joe Books are the perfect resource to empower children and build their confidence. Self confidence is probably the most important thing a child can be given to progress into a successful person."~ Sidney Lloyd, Retired Primary School Teacher
"These books are a MUST buy - they are AMAZING!" ~ Janine Vanger, Mother of two
"This series of short stories are both fun and transformational. Each story helps teach children the power they have in controlling and creating their thoughts and feelings. These subtle yet substantial stories can only bring enjoyment and awareness to younger children."~Adrianne Dartnall, Counsellor and Communication Skills Trainer
"I gave a set to my nephews, ages 5 and 7 and found the books were age appropriate with an excellent positive education that was exciting for the boys. Fabulous books...can't wait for more!" ~ Lil Mitchell
COMING THIS FALL:
The latest Companion Book in the CJ Series! & Hard Covered Collectors Edition!
Please visit the following sites:
http://www.emilymadill.com
http://www.captainjoebooks.com
###