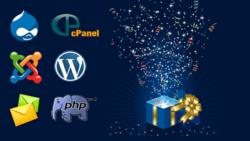 Sending shock waves throughout the hosting industry.
(PRWEB) October 05, 2011
The Hostish team offers this benefit through their OnePlan Hosting solution. According to creator and founder; Faisal Ammari, Hostish developed the OnePlan package to help website owners lower online hosting costs. At the same time, webmasters would be able to enjoy all the traditional web hosting needs.
Therefore, the OnePlan Hosting Solution provides:

1Click script installation
10GB hosting space
100GB bandwidth
CGI-BIN/PERL support
cPanel
Daily backups
Free website builder
Host 10 domains
JavaScript/Flash Support
Secure web host
Site statistics
Unlimited email accounts and lists
Unlimited FTP accounts
Unlimited MySQL
Ammari also discussed Hostish's ability to guarantee 99.9% uptime, and offer around the clock customer service. These benefits come with the OnePlan Hosting package, as well as any other offer on their site. Those planning to purchase the OnePlan Hosting Solution will also enjoy a 30-day money back guarantee.
The average cost of web hosting over the course of a year is estimated at $100. This only includes:
Activation fee
Domain purchase
Package deal
Setup cost
Hostish is providing the OnePlan Hosting package for only $49, one-time. Over the course of a ten year period, companies could save $1,000 just on web hosting for an individual site. The only recurring cost associated with the OnePlan Hosting solution will be a recurring fee for the domain. However, this is only a $10-$11 investment.
In the next couple of years, we could see several web hosting companies providing one-time payment options as well. In the meantime, Hostish.com will most likely become a major web hosting authority on the Internet, just because they thought outside the box.
###