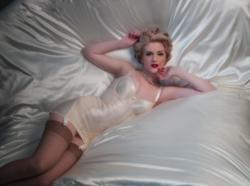 Lingerie is an essential part of getting an authentic 1950s silhouette
(PRWEB) October 03, 2011
Faux vintage lingerie design house, What Katie Did, has supplied several pieces of lingerie for the forthcoming movie 'My Week With Marilyn'.
What Katie Did's designs are adapted from original vintage pieces and they're most famous for their spiral stitch bullet bras and body shaping corselettes: both of which are worn in the film. The right lingerie is an essential part of getting an authentic 1950s look. Bullet bras were worn to push the breasts into a conical pointy shape whilst no respectable women would go without her girdle - in fact, Marilyn Monroe caused more than a little controversy by not wearing a girdle in the film 'Niagara'.
'My Week With Marilyn' was filmed in the UK at Pinewood Studios, just a stone's throw from What Katie Did's head office. The movie covers a week in Marilyn's life when she was filming 'The Prince And The Showgirl'. It stars Michelle Williams as Marilyn and premieres in New York on 9th October. It's released in the US on 4th November and the UK on 18th November.
What Katie Did have been manufacturing vintage style lingerie since 1999 and their pieces are frequently used in retro movie and television projects as well as cutting edge fashion magazines. Designer Katie Halford was called upon to discuss a recent bra of Marilyn Monroe's that went up for auction in London, and appeared on NBC and ITN news.
What Katie Did have two stores, in London UK and Hollywood USA and 120 stockists worldwide.
###