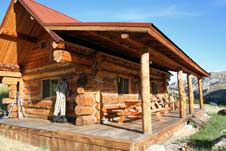 There are lots of folks out there that want to enjoy a more private Montana fly fishing experience that alows them to get away from it all and enjoy great food and scenery.
Bozeman, Montana (PRWEB) October 02, 2011
Montana Angler Fly Fishing recently teamed up with the Circle P Ranch near Maudlow, Montana to provide a unique exclusive experience for guests looking to enjoy "off the beaten path" fishing. Unlike other Montana fly fishing lodges that the outfitter works with, the Circle P offers guests a private and exclusive experience.
"We have lots of guests that enjoy the social atmosphere of our more traditional lodge partners, but there are also a lot of folks out there that really want to just get away from it all and spend quality time with their friends or family while still enjoying a gorgeous setting with great food," stated Montana Angler outfitter Brian McGeehan.
"Our guests stay in log cabins that are solar and generator powered. The cabins are located at the head of the Sixteen Mile creek canyon in a very beautiful and isolated setting. The creek is filled with trout our guests have private access to the water near the cabins. We decided to make the trips all inclusive so anglers can just show up and fish. Our fishing guides and camp cook stay on the ranch to take care of all of the meals in an outdoor kitchen while guests relax on the big covered porch. During the day we visit some other nearby private ranches to fish spring creeks or other rivers."
Montana Angler Fly Fishing (http://www.montanaangler.com) is based in Bozeman, Montana and specializes in designing complete fly fishing vacations for their guests.
# # #