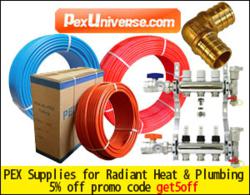 Get extra discount with promo code "get5off" for all PEX supplies.
New York, NY (PRWEB) October 03, 2011
A statement issues by the company states that "As temperatures begin to drop, people living in houses with insufficient heating can experience great discomfort and adverse health effects associated with cold weather. Therefore, we urge our customers to prepare their homes and properties for the upcoming winter season, and ensure that they have efficient heating systems installed that are able to provide sufficient heat output.
The statement goes on to say that "we understand that preparations need to start well before temperature falls below freezing point and that it takes time to install appropriate heaters and heating systems; therefore we're happy to announce that as of September, PexUniverse.com has increased its inventory in preparation for 2011-2012 winter season by 30% and the company is ready to meet increased demand, while continuing to provide lowest prices and superior customer service."
In addition to increased inventory, PexUniverse.com has also announced rollout of two new product lines: OxyPEX tubing by Bow and Kickspace Heaters by Beacon Morris.
Both of these products are competitively priced and have received great reviews from company's customers.
Bow OxyPEX Tubing is a popular PEX brand often used in hydronic heating and ice melt systems. PexUniverse.com offers Oxygen Barier Bow OxyPEX tubing in 1/2", ¾", and 1" diameter sizes and in length of 300ft, 500ft, and 1000ft.
Kickspace heaters are produced by Beacon Morris. The Twin-Flow III are made in USA and are designed to be installed in bathrooms, kitchens and hallways and replace standard baseboards. The series has earned itself a reputation of being reliable and quiet in operation. Twin-Flow III line consists of 3 models: K42, K84, K120, all of which are available on the website.
PexUniverse.com continues to sell a multitude of other heating related products such as Everhot PEX tubing, heat exchangers, water heaters, thermostats, as well as other components required to build an efficient hydronic radiant heating system.
About Pex Universe
Pex Universe is a leading online retailer of plumbing and heating supplies based in New York. The company's main product line includes an extensive selection of PEX products including PEX tubing, PEX Manifolds, PEX tools, and PEX fittings. In addition to PEX supplies, the website offers multitude of products from leading brands such as Everhot, Taco, Grundfos, Little Giant, Honeywell, Steibel Eltron, Liberty Pumps, Takagi and many more.
With a strong culture of commitment to customer satisfaction, PexUniverse.com continuously provides lowest prices and same day shipping to tens of thousands of customers every year.
For more information about PexUniverse.com, visit us on the web at http://www.PexUniverse.com
Contact information
PexUniverse.com
196 Henry St,
Hempstead, NY 11550
Tel 800-818-3201
Fax 800-818-3211
sales(at)PexUniverse(dot)com
http://www.PexUniverse.com
###