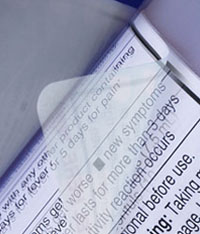 When a client contacts us for a labeling solution, we discuss exactly what they need and deliver with unmatched turnaround.
Fairless Hills, PA (PRWEB) October 05, 2011
SC Salesmaster Corp., a supplier of packaging products and equipment throughout the Northeast, is now offering custom label products and labeling solutions for a wide range of applications including food and beverage, pharmaceutical/nutraceutical, cosmetic,household and personal care products.
"One of the primary advantages to our custom labeling products is fast turnaround time," said Tom Northrop, sales manager for Salesmaster. "We can provide clients with high quality custom manufactured labels in 5 to 10 days compared to the typical 3 to 4 weeks common to the industry."
The extensive Salesmaster label product line includes bar codes, QR codes, paper, film and foil, as well as other popular types of labels like holographic, pressure sensitive and tamper evident, thermal, adhesive and custom die cutting.
"When a client contacts us for a labeling solution, we discuss exactly what they need and deliver with unmatched turnaround," said Northrop. "If the order has to be pushed through even faster, we are able to discuss measures to meet the clients' needs."
Customization of labels to fit the clients' needs is available from Salesmaster as well. With access to graphics arts options including digital pre-press, art concept design, and plate and screen making, Salesmaster can accommodate all of the details from a new design for a product label to custom sizes and quantities of orders.
"Customers come to us for a wide variety of shipping supply needs," said Northrop. "We are really happy and excited to be offering labeling solutions to them now. This just means they have one less contact they need to deal with for another supply need."
Salesmaster's experienced personnel can assist in selecting the appropriate labeling solutions for your products' needs and can also provide other packaging options available. For more information or to request a catalog, call 215-295-2300 or visit salesmastercorp.com.
About ISC Salesmaster Corporation:
ISC Salesmaster Corporation is a supplier and distributor of packaging and shipping materials, packaging machinery and equipment, material handling products, and janitorial and safety supplies in Eastern Pennsylvania. Since 1970, Salesmaster Corp. has provided industry with products from the most trusted names in the business including 3M, BestPack, Polyair, Shurtape, Wulftec, Storopack, Strapack, and more.
###