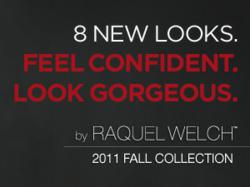 It's not every day that consumers can find a wig that looks beautiful right out of the box.
Dallas, TX (PRWEB) October 03, 2011
Raquel Welch has done it again… the entrepreneur and icon has launched yet another exquisite wig collection for Fall 2011. Just like in the fashion world, brands in the wig world are constantly evolving, developing more innovative collections than those before. The Raquel Welch line is no exception as the brand is a leader in the industry, both in style and consumer popularity.
Launching in October 2011 on Wigs.com, Raquel Welch wigs ushers a new collection of wig styles that Raquel herself calls "casual and chic" with "natural, uncontrived looks." Fanatics of the brand and wig wearers alike will enjoy 8 new looks in the Fall line, offering human hair and heat-friendly synthetic wigs as well as lace front and monofilament technology. As with every collection, the Fall line features a diverse mix of cuts, from the short and sophisticated to the long and sultry.
Sure to be a top seller, the Limelight wig offers long, layered waves. It's not every day that consumers can find a wig that looks beautiful right out of the box. Opening Act and Finesse feature the classic bob with a modern twist. Mid-length cuts like Bravo and Magic offer contemporary, sexy silhouettes with a real 'look-at-me' factor. The Encore wig brings the shag hairstyle back in a big way with face-framing layers, while Sparkle offers a no-fuss style and plenty of texture.
With Winner Elite, Raquel took one of her most popular short cuts and gave it custom features like a hand-tied cap, monofilament top and a lace front. Features like these are designed to give consumers comfortable wear and a natural, believable appearance. As Raquel always says, "These are not your grandmother's wigs!" In addition to these 8 new wig styles, Wigs.com introduces the latest Raquel Welch hairpiece: 100% Human Hair Clip In Bangs, which gives women the option to simply clip in their bangs and avoid the salon visit or permanent cut.
Almost as anxiously as its clients, Wigs.com excitedly awaited the launch of Welch's new collection. The site promises that Raquel Welch's 2011 Fall Collection will help women to feel confident and look gorgeous. With regards to wearing wigs, Welch says, "Forget about the fussing and take the easy way out!" The entire new Fall line can be viewed at Wigs.com where visitors can learn more about each style and watch exclusive video from WigsTV.
About Wigs.com
Wigs.com is the leading hair shopping network building its trusted name for 15 years by partnering with Celebrity lines such as Raquel Welch, Jessica Simpson, Vivica A. Fox, Beverly Johnson, and many others. This has helped bring celebrity-inspired styles to millions of customers looking for the perfect hair solution. Only the best in wigs, hair extensions, hair pieces, care products and accessories are represented on the site. The company has separated itself from the competition in the expertise and education offered to the public. Over the years, Wigs.com has established its name as the best source for alternative hair and related products.
###