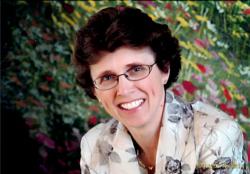 New York, NY (PRWEB) October 03, 2011
Cordula Dick Muehlke, Ph.D., of Santa Ana, CA has dedicated the last 25 years of her career to helping families who are facing Alzheimer's disease or another dementia, including turning a truly grassroots effort into a state-of-the-art model as executive director of Alzheimer's Family Services Center (AFSC) in Huntington Beach, CA since 1995.
In recognition of her outstanding achievements and dedication, Dementia Care Professionals of America (DCPA) announced today that it has named Dick-Muehlke the 2011 Dementia Care Professional of the Year.
DCPA, the professional membership and training division of the Alzheimer's Foundation of America (AFA), has given the award annually since 2007 to someone "who demonstrates professional excellence in care, compassionate performance that exceeds expectations and a dedicated commitment to people diagnosed with Alzheimer's disease or a related dementia."
"Cordula is a remarkable and visionary leader in the dementia world, setting a new paradigm of care that preserves an individual's personhood and dignity. Her ability to continuously think outside the box encourages others to think innovatively about the best way to provide care," said Eric J. Hall, AFA's president and CEO.
Dick-Muehlke's compassion for individuals with dementia is borne out of her own personal experience in caring for her older brother who had Down syndrome and developed dementia later in his life.
"I deeply appreciate the recognition of my efforts to support the continued personhood of each individual with dementia," said Dick-Muehlke, a licensed clinical psychologist. "For me, this award will always serve as an encouragement to strive to even higher levels of excellence, care and compassion, as I continue my commitment to improve the lives of people affected by dementia and their families."
In nominating Dick-Muehlke, Anita Rodriguez-Lambert, AFSC's director of development and communications, said, "Serving families facing Alzheimer's disease is not just an academic or professional interest [for her]—it is a way of life…Dr. Dick-Muehlke's efforts are helping transform dementia care—one family at a time."
At AFSC specifically, she added, "From the design of AFSC's dementia-specific facility to the development of high-quality programming, Cordula's fingerprint is on all of the agency's achievements."
Throughout her career, the award winner has been an impassioned advocate for memory- impaired individuals and their right to access affordable dementia care services, especially adult day programs, and has championed a whole person approach to caring for individuals affected by Alzheimer's disease.
Among her many accomplishments at AFSC, Dick-Muehlke and her staff developed "Memory Care Tools," an innovative kit that includes various items for nurses and family caregivers to use as non-pharmacological strategies to handle difficult symptoms of dementia.
Affiliated with the Hoag Neurosciences Institute, Newport Beach, CA, AFSC is an independent nonprofit agency and is the only Alzheimer's disease day care resource center in Orange County. The agency, which is one of AFA's 1,600 member organizations, reaches more than 5,000 people annually through its adult day programs, caregiver support services and outreach efforts.
In addition to her position at AFSC, Dick-Muehlke has served as chair of the State of California Health and Human Services Agency's Alzheimer's Disease and Related Disorders Advisory Committee, and president of the California Association of Adult Day Services. She holds an appointment as an associate specialist at the University of California, Irvine Institute for Memory Impairments and Neurological Disorders.
DCPA accepts applications for its Dementia Care Professionals of the Year award until September 1 each year. Nominees do not have to be affiliated with DCPA or AFA in order to be considered.
Dementia Care Professionals of America, a division of the Alzheimer's Foundation of America (AFA), is a membership organization for dementia care professionals that offers practical training, continuing education and qualification as AFA Dementia Care Providers and AFA Dementia Care Specialists. Its 5,500 members include social workers, nurses, home health aides, physicians and other healthcare professionals. For more information, visit http://www.careprofessionals.org or call 866-232-8484.
The Alzheimer's Foundation of America, based in New York, is a national nonprofit organization that unites more than 1,600 member organizations nationwide with the goal of providing optimal care and services to individuals confronting dementia, and to their caregivers and families. Its services include counseling and referrals by licensed social workers via a toll-free hot line, e-mail, Skype, and live chat; educational materials; a free quarterly magazine for caregivers; and professional training. For more information about AFA, call toll-free 866-AFA-8484 or visit http://www.alzfdn.org.
Photo caption: Cordula Dick-Muehlke, Ph.D., 2011 Dementia Care Professional of the Year
###