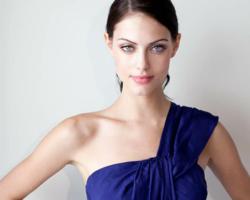 Julia found the subtleties and nuance of Michelle, bringing her to life in ways far exceeding my expectations.
HOLLYWOOD, CALIFORNIA (PRWEB) October 04, 2011
The Producers of A Sexual Thriller, the exciting new project by Joël Colburn, have announced that Julia Voth will be playing Michelle Waters, an ambitious young Operative for a covert CIA special findings unit. Although she's as smart as she is brave, Michelle is in way over her head. The Director, Joël Colburn stated, "Julia found the subtleties and nuance of Michelle, bringing her to life in ways far exceeding my expectations." Besides her obvious talent and beauty, Julia brings a great deal of passion and energy to the role and to the project as a whole.
Julia Voth has starred in Bitch Slap, Lilith and Alone as well as appearing in the up coming Ameilia's 25th. Born in Canada, Julia was a Fashion Model who was always very much in demand. So much so she traveled all over the world. Her hard work and dedication to the craft of acting developed her into a skilled, professional with a career that's poised to take off. She's one of those irresistible forces that can move any object. We're all very happy to have her as part of our little family and look forward to working with her.
Rúna Fridriksson is producing for Kristrún Entertainment along with Art Anthony. Joël Colburn, who penned the action thriller, will make his directorial debut.
Jesper Chistensen is from Denmark and has worked with some of the finest Directors of our time like Lars von Trier on Melancholia, John Madden of The Debt, Marc Foster on Quantum of Solace, Jan Troell on Everlasting Moments and on the upcoming Truth or Consequences and Martin Campbell on Casino Royale to name but a few. His Theatre work included Alceste in The Misanthropist, Richard in Richard III (solo), Faust in Faust and Astrov in Vanja. As he puts it, a lot of worried men.
Tina Casciani has starred or appeared in Mob Rules, Role Models, Burn Notice, CSI: Miami, Dark Blue and How I Met Your Mother to name a few. Ms. Casciani edged out a veritable bevy of talented Actresses to win the coveted role of Alexandra Duval.
Also attached is the truly, one of a kind, Robert Maillet. He's appeared in 300, Sherlock Holmes and Pacific Rim. At seven feet tall and with a voice like a God, Robert brings it.
The Producers are delighted to have Julia Voth, Jesper Christensen, Tina Casciani and Robert Maillet on the project, Other attachments are in the works and announcements are anticipated soon. "A Sexual Thriller" begins shooting next year.
Visit http://www.sexualthriller.com to stay abreast of the breaking news.
Kristrún Entertainment is a boutique Management and Production Company formed by Rúna Fridriksson. In addition to a slate of seven features in development, the company is producing several Documentaries including one about banking collapses in Iceland and the impact they had on the working class citizens of the once prosperous nation.
Kristrún Entertainment is located in Jacksonville, Florida.
PRESS CONTACT
Mike Goldberg
Kristrún Entertainment
904-383-7154
mgoldberg(at)kristrun(dot)com
###