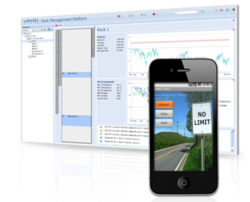 The HP iPDU and No Limits Software RaMP solution combine to provide the most automated data center management tool available today.
St. Louis, MO (PRWEB) October 04, 2011
The HP Intelligent Power Distribution Unit automatically tracks new server installation and provides higher precision, control, and automation to power distribution. The Rack Management Platform (RaMP) data center infrastructure management (DCIM) solution from No Limits Software extends this capability to other devices in the rack, including servers from other manufacturers, network gear and so on. RaMP utilizes the HP iPDU capabilities to further automate data center management.
RaMP automates data center management by auto-discovering servers, switches, routers, rack PDUs, UPS and other data center infrastructure. Used in conjunction with the HP iPDU, RaMP can now automatically determine the power sources for the HP servers, further automating the management process. This autodiscovery means less work for the data center manager, as well as reducing the errors introduced by manually entering data.
The RaMP solution provides the following benefits:
Automated Asset Management

Improved data accuracy through the automated discovery of detailed device information
Automatically track device location down to the rack unit
Software license management
Real-time data center auditing for IT asset accounting compliance (Sarbanes-Oxley, CFR-11)
Automated change control to reduce MTTR and increase availability
Web services API provides integration with other asset and change management systems
Real-Time Monitoring

Power and environmental monitoring down to the device level
Server monitoring to identify servers which should be retired, virtualized or consolidated
Identify servers which are not using power management
Enhanced Capacity Planning

More accurate capacity planning data helps to reduce stranded power and shutdown risks
About No Limits Software
No Limits Software is a leading provider of data center management solutions, including automated asset and change management, capacity planning and infrastructure monitoring. No Limits Software's patent-pending RaMP solution is unique in that it automates asset management to the rack unit. The RaMP solution eliminates the need for physical audits, dramatically reduces the time to find and repair equipment, improves system availability and improves data center energy efficiency by providing accurate capacity planning.
# # #