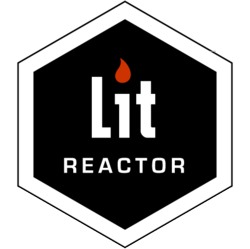 "Our aim with LitReactor is to become the destination for writers looking to network and improve their craft. All of our courses will be taught by the people who create them – successful pros and authors." Dennis Widmyer, LitReactor editor-in-chief
Los Angeles, CA (PRWEB) October 04, 2011
Up-and coming writers looking for community, content, guidance and inspiration have a new online resource,LitReactor.com, to help meet their writing goals. LitReactor.com today announced its launch as a destination for writers looking to improve their craft through writers' workshops and courses, a haven for readers of contemporary fiction and a platform for exclusive educational content and practical advice from an impressive faculty of top authors and successful writers.
Content includes peer-review writers' workshops, essays on writing from successful authors, online courses taught by published authors and industry professionals, and an online literary magazine updated frequently by a team of more than a dozen columnists, reviewers and journalists. LitReactor will offer a combination of free and premium, subscription-based content.
"Our aim with LitReactor is to become the destination for writers looking to network and improve their craft," said Dennis Widmyer, LitReactor editor-in-chief. "All of our courses will be taught by the people who create them – successful industry professionals and published authors."
Widmyer said LitReactor will offer at least ten new courses per quarter, starting with three courses in October. The courses run four to six weeks and cover a wide range of writing and publishing topics aimed at all levels of writers.
LitReactor's online magazine will include lengthy interviews with authors including Chuck Palahniuk, Dan Woodrell, Chuck Klosterman and Robert Kirkman. The magazine also will review at least six new books a month, and include a wide array of columns on the world of literature.
The LitReactor team, including Editor-In-Chief Widmyer, Technical Lead Kirk Clawes and Director of Education Mark Vanderpool, conceived the site as an outgrowth of the work they have created since 2005 on ChuckPalahniuk.net, one of the most successful author websites.
Anyone subscribing to its email list will receive a free e-book from LitReactor, offering advice to writers from a variety of important contemporary authors, including Palahniuk, Clevenger, Ketchum, Max Berry, Stephen Graham Jones, Bret Easton Ellis, Amy Hempel, Steve Erickson, Neil Gaiman, Christopher Bram and Holiday Reinhorn.
For more information, please visit http://www.LitReactor.com.
About LitReactor
LitReactor.com is a destination for writers to improve their craft, a haven for readers of contemporary fiction, and a platform for helping aspiring writers achieve their goals. The LitReactor team conceived of the site as a new home for some of the work they had created at the highly successful author site, ChuckPalahniuk.net. LitReactor brings together the experience and knowledge of successful contemporary authors who share their insights exclusively via peer-review writers' workshops, online courses, essays and an online literary magazine. Learn more or subscribe at http://www.LitReactor.com.
# # #