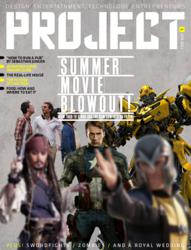 "Launching PROJECT, the most exciting and ground-breaking app in the world, has been an incredible experience and has genuinely accelerated our transition from a publishing agency to the most dynamic strategic multiplatform content agency in the UK
London (PRWEB UK) 2 October 2011
PROJECT, the world's first iPad-native magazine, a joint collaboration between Virgin Digital Publishing and Seven, has been shortlisted in the PPA Data & Digital Publishing Awards 2011 in the category of App of the Year.
PROJECT is one of six finalists shortlisted for the prestigious award, including Empire iPad Edition, BMJ iPad app, Good Food iPad app, Elle Collections and Focus Magazine for iPad. Judges took into account how well users and advertisers were engaged via a new platform, including take-up and revenues.
The PPA Data & Digital Publishing Awards are the premier awards saluting online excellence and achievement by business information providers, magazine publishers, digital service and data aggregators, their brands and their teams, bringing together the elite of the UK's digital industry to celebrate and reward their successes over the past year.
PROJECT magazine has already scored a 14/15 rating and is in the top 1% of apps in iMonitor's Best Publication Apps evaluation, on a par with major publications the Sunday Times and USA Today. The list represents the best of breed, featuring apps that score in the top 2% of all apps that have been evaluated by iMonitor in the past year.
At the launch of the iPad 2 in San Francisco, PROJECT was pre-loaded onto all of Apple's new devices to showcase their capability.
It has topped the iPad download charts on both sides of the Atlantic since it was launched by Sir Richard Branson in New York last November.
Seven's ground-breaking approach also extended to offering a cutting-edge advertising production creative service that has led to some of the most innovative iPad advertising in the world. A range of the word's leading global advertisers – Ford, Nissan, Kronenbourg, Amex, Lexus, Panasonic and Virgin Atlantic. As a result, it's no surprise that Apple has featured PROJECT in 18 countries as one of the best iPad apps.
Nine issues old and PROJECT has set an industry benchmark for an iPad magazine user-interface 'design language' that other publishers can follow. Issue 5 saw the launch of the world's first gyroscope iPad magazine cover, followed by three world exclusives with the first ever 3D gesture-controlled magazine art gallery, an entire album's worth of music in a retro boombox and, to top it all off, the fashion pages featured an incredible 360-degree view of outfits on a revolving clothes stand, and that's not mentioning the exclusive access and live covers with Sir Paul McCartney, Harrison Ford and Eric Bana, who are among the many celebrities who have featured.
The final winners will be announced at the PPA Data & Digital Publishing Awards ceremony and gala dinner at the Park Plaza Victoria Hotel, London, on Thursday 10 November.
Sean King, CEO at Seven, said: "Launching PROJECT, the most exciting and ground-breaking app in the world, has been an incredible experience and has genuinely accelerated our transition from a publishing agency to the most dynamic strategic multiplatform content agency in the UK. It has also built our reputation internationally and we are now working with clients in the US and mainland Europe. PROJECT has been unquestionably instrumental in building our reputation."
Giovanni Donaldson at Virgin Digital Publishing said: "We're very excited to see PROJECT being considered alongside other quality publications. Virgin is extremely proud of the team who have worked on PROJECT. They have consistently worked hard to push the boundaries in this new medium to demonstrate the future of publishing and advertising. This effort has been consistently recognised by our advertisers, readers and reviewers."
http://www.projectmag.com
http://www.seven.co.uk
Contact at Seven:
Shareena Ali
PR
Tel: 0207 775 5549
Email: shareena.ali(at)seven(dot)co(dot)uk
Contact at Virgin Digital Publishing:
Basil Hassan
Email: Basil(dot)Hassan(at)virgin(dot)co(dot)uk
About Seven

Seven is an award-winning strategic content agency.
Experts in creating intelligent, relevant and effective content across multiple channels, including magazines, websites, social media, interactive ezines, video, iPhone and iPad apps.
Clients of Seven include Virgin, Sainsbury's, CIMA, English Heritage, Grant Thornton, Guardian Media Group, Lloyds Banking Group, New Look and Waterstone's.
For further information: http://www.seven.co.uk or contact Shareena Ali, PR Manager, Shareena(dot)ali(at)seven(dot)co(dot)uk 020 7775 5549.
About PROJECT and Virgin Digital Publishing
Founded by Giovanni Donaldson, one of Virgin's budding young entrepreneurs, and launched by Sir Richard Branson in 2010, Virgin Digital Publishing brings the brand to the forefront of new media and cutting edge technology, whilst also returning to our Group Founder's publishing origins with Student magazine. PROJECT is the first publication of Virgin Digital Publishing.
PROJECT, a collaboration between Seven and Virgin Digital Publishing, is breaking new ground in digital publishing and iPad apps.
Edited by Anthony Noguera, PROJECT is the magazine for the iPad.
It combines the enduring foundations of traditional print media: beautiful aesthetics, authority and agenda-setting editorial with the very best that new media can offer: interactivity, speed, flexibility and a sense of global community.
PROJECT is a monthly, purpose-built, interactive iPad magazine – packed with international culture, entertainment, design, business and travel.
Already available in Apple's App Store in the UK, US, Canada and Australia, PROJECT is already looking to expand into additional tablet platforms and markets. Issues have been downloaded in territories as far and wide as Korea, Brazil, Russia and Saudi Arabia.
PROJECT was the first international native iPad magazine, launched by Sir Richard Branson himself in New York on 30 November 2010.
Within two days of launch, PROJECT was #1 in the App Store globally.
At Apple's recent announcement in San Francisco, Apple had pre-loaded PROJECT onto all the new iPad 2s to showcase their capability.
T3, Virgin America, Audi Becks, Ford and Nissan are the latest brands to advertise in Issue 5 of PROJECT.
URLS:
http://www.projectmag.com
http://www.facebook.com/project
http://www.twitter.com/projectmag
###