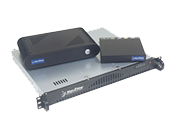 Sarasota, FL (PRWEB) October 04, 2011
Star2Star Communications, makers of "The World's Most Reliable Internet Phone Solution," today announced that the company has shipped 12,000 of their flagship StarBox IP PBXs in the past twelve months.
"After three consecutive years of rapid growth in a row, we realized that we could set a goal to ship 10,000 systems within the space of twelve months," said Joe Rhem, President of Star2Star. "We beat that number by 20%, thanks in large part to our active and vibrant channel partner program," he continued.
Most Star2Star customers save around 50% on their monthly telephone expenses. The savings are usually more than enough to offset the financing cost for the phone system. Star2Star's lower operating costs are a direct result of the company's unique Blended Architecture, which provides cloud-based voice applications and telephone service delivered with superior quality, guaranteed reliability all over ordinary Internet connections.
The company was recently named to the Inc. 500 list of America's fastest-growing private companies.
About Star2Star:
Founded in 2006 in Sarasota, Florida, Star2Star Communications develops and delivers business-focused Internet telephone systems and service. Star2Star's award-winning technology employs a powerful Blended Architecture that overcomes the limitations of other Internet phone technologies. Star2Star delivers innovative features and increased productivity while providing substantial cost savings.
Star2Star products are sold through a diversified international network of distributors, master agents, and certified installing dealers. Available across North America, Star2Star Internet telephone systems are scaled for and installed in thousands of small- and medium-sized businesses, enterprise-sized organizations and some of the nation's largest national retail and restaurant chains.
###