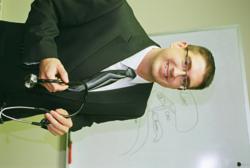 Youngstown, Ohio (PRWEB) October 02, 2011
Humility of Mary Health Partners is proud to announce that John L.Weippert, DO, Chief Resident, Internal Medicine at St. Joseph Health Center was recently selected as one of the 2011 Outstanding Residents of the Year by the American Osteopathic Foundation (AOF).
Each year the AOF selects just four osteopathic physicians from across the nation for this distinction. Candidates must be in their 2nd through last year of an AOA approved residency program and have demonstrated exceptional dedication to their profession. Candidates undergo a rigorous application process. Only those who demonstrate a combination of clinical promise, innovation, skills in health care, and commitment to the osteopathic profession are chosen. These physicians are looked upon to become future leaders, advocates for their patients, and some even become national and world leaders in health care or research.
Dr. Weippert is a native of Cecil, Ohio. He completed his undergraduate degree at the University of Toledo and received his medical degree from Ohio University College of Medicine. Dr. Weippert will be entering an Osteopathic Fellowship in Gastroenterology at Millcreek Community Hospital/Lake Erie College of Osteopathic Medicine in Erie, PA this July.
St. Joseph is a member of Ohio University's College of Medicine Center for Osteopathic Research and Education (OU-COM CORE) and offers medical students and residents superior medical education resources and opportunities. Osteopathic residency programs offered at St. Joseph include internal, family and emergency medicine as well as orthopedic surgery.
About Humility of Mary Health Partners
Humility of Mary Health Partners is an integrated health system located in the Youngstown/Warren area. HMHP provides a full spectrum of health care services, including inpatient, outpatient, emergency, urgent care, home care, residential and long-term care, as well as hospice care. Members are St. Elizabeth Health Center, St. Joseph Health Center, St. Elizabeth Boardman Health Center, Humility of Mary Home Health Services, The Assumption Village, Humility House, Hospice of the Valley and Laurel Lake. St. Elizabeth and St. Joseph health centers, St. Elizabeth emergency and diagnostic centers in Boardman and Austintown, and the St. Joseph Outpatient Surgery Center in Howland have achieved magnet recognition status, the gold standard of patient care. Learn more about HMHP online at http://www.HMpartners.org.
###