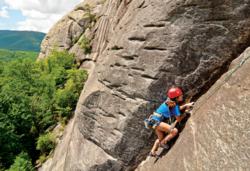 I was very impressed with the tremendous resources the program has at its disposal -- everything from state-of-the-art on-site facilities, superb equipment, and access to world-class outdoor opportunities.
(PRWEB) October 02, 2011
The mountaineering program at Asheville School, the South's premier co-ed college preparatory boarding school, recently joined the ranks of the world's top tier outdoor programs after it became one of only 11 secondary schools worldwide to receive an Association of Experiential Education Accreditation.
Ed Maggart, Director of Mountaineering at Asheville School for the last 25 years, was thrilled when the Association of Experiential Education granted Initial Accredited status to the school's mountaineering program earlier this month.
"We have always had an outstanding Mountaineering Program at Asheville School and now we are in a small community of top tier accredited outdoor programs," Maggart said.
This accreditation, which is valid for five years, is based on compliance with the following AEE standards: Philosophical, Educational & Ethical Principles, Program Governance, Program Oversight and Management of Activities, Human Resources (Staff Selection, Hiring, Training and Supervision), Transportation, Equipment, Nutrition, and Hygiene, Venue Selection and Appropriateness, Environment and Culture, and Technical Skills – Land and /or Water Based.
"Asheville School's Mountaineering Program is truly an exemplary program. What impressed me most, however, was the caliber of the staff. From the inspirational leadership of Ed Maggart to the dedicated instructional staff, they are an amazing group of passionate educators committed to providing remarkable experiences for their students," said Shawn Tierney, AEE Director of Programs and Lead Reviewer for the external peer review of the program. "I was very impressed with the tremendous resources the program has at its disposal -- everything from state-of-the-art on-site facilities, superb equipment, and access to world-class outdoor opportunities. In short, Asheville School and its Mountaineering Program are most deserving of the highest accolades!"
According to the AEE website, "Attaining accredited status through the AEE Accreditation Program is evidence of an organization's commitment to quality, belief in professional standards, and allocation of resources toward continuous improvement. Programs that have gone through the AEE Accreditation process have distinguished themselves in the growing field of experiential education" (http://www.aee.org/).
"Fewer than 60 organizations worldwide have this accreditation," Maggart said. "This extensive two year process forced us to look carefully at every area of our program from staff development to student programming to risk management. The 160-page self-study and three day review by the AEE accreditation committee challenged us to bring every aspect of our program to the highest standards of the outdoor industry. We can justifiably say that we meet, or in many cases, exceed the 169 rigorous standards the committee was considering. In the process our program became stronger in every way."
There are currently only 10 other schools with accredited programs listed in the k-12 category, two of which are independent schools.
Asheville School's mountaineering program originated in 1968, even though students had been trekking through the mountains of Western North Carolina since the school opened in 1900. James "Pop" Hollandsworth was the director of the mountaineering program for nearly 40 years, and at age 95 he continues to visit the school frequently. He began by teaching students outdoor skills, and later added rock climbing, kayaking and other adventures – along with making it an official program that the students were required to participate in. In 1985, Ed Maggart took the reigns and has been the school's director of mountaineering for the past 25 years.
AEE is a nonprofit, professional membership association founded in 1972 with 1,500 members in 30 countries engaged in more than 15 areas of professional practice. Members include Harvard, Brown, The University of North Carolina at Chapel Hill, The Westminster Schools, and Colorado Rocky Mountain School, to name a few.
A nationally acclaimed co-ed college preparatory boarding and day school, Asheville School enrolls approximately 275 students from across the country and overseas. Recent graduates are attending Harvard, Stanford, Columbia, University of Pennsylvania, Cornell, Caltech, UCLA, UNC-Chapel Hill, Davidson, NC State, University of Virginia, Emory, Duke, and Wake Forest, among others.
###