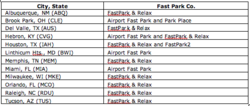 Cincinnati, OH (PRWEB) October 01, 2011
Parking at the airport will be more relaxing than usual as the Fast Park family of off-site airport parking companies, with 16 facilities in 12 markets, celebrates national Customer Service Week. Events and giveaways are scheduled every day at each parking facility the week of October 3-7, 2011.
Customers arriving in the morning will receive complimentary breakfast treats, such as fresh fruit, while afternoon customers will enjoy snacks and beverages. The top customers in each market will receive a Fast Park swag bag filled with local gift cards and other Fast Park merchandise. In addition, Fast Park customers will have the chance to win an iPad when they "like" the Fast Park Facebook page. For an additional entry customers can also "follow" Fast Park on Twitter. The iPad winner will be announced on October 7th. To end Customer Service week with a flourish, each facility will host a tailgate party complete with hot dogs and hamburgers fresh off the grill as well as other items such as luggage tags and koozies. To see photos from past years, please click here.
These events coincide with National Customer Service Week, celebrated each year during the first week in October. Fast Park recognizes that courteous efficient customer service, delivered with a smile, can help take the stress out of traveling.
"Our customers are the most important part of our business and we remind them every day with our quick service and helpful employees," said Melanie Chavez who oversees construction and branding for Fast Park. "Our service is what sets us apart from our competition, we consistently strive to meet and exceed our customer's expectations. Customer Service Week keeps that important message in the forefront of our company's culture."
About Us
The Fast Park family of airport parking solutions is headquartered in Cincinnati, Ohio. There are 16 Fast Park facilities in 12 markets throughout the country. Fast Park brands include FastPark & Relax, FastPark 2, Airport Fast Park and Park Place. Fast Park companies provide customer service focused, airport parking, 24 hours per day, seven days per week, with instant shuttle service transporting travelers from their parking spot to their terminal. Facilities are located in Albuquerque, New Mexico; Austin, Texas; Baltimore, Maryland; Cincinnati, Ohio; Cleveland, Ohio; Houston, Texas; Memphis, Tennessee; Miami, Florida; Milwaukee, Wisconsin; Orlando, Florida; Raleigh, North Carolina; and Tucson, Arizona. For more information visit http://www.thefastpark.com.
###