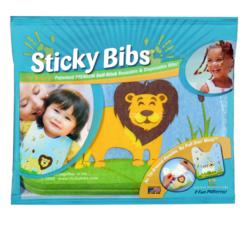 I used this product on my granddaughter and they were simply amazing!! They are super easy to use. Just peel and stick with no mess. Every Mom... or Dad, should carry these in the diaper bag!! A must have.
(PRWEB) October 04, 2011
Sticky Bibs Ltd., a US-based developer of innovative and professionally designed consumer products, announced today the launch of its patented flagship Sticky Bibs product: a revolutionary twist on old-fashioned baby bibs that saves money, time and hassle.
Made in the US from high quality components, Sticky Bibs' self-adhesive bibs apply easily and instantly to a tot's clothing, with nothing to tie, nothing to snap and no hassle. Parents even report that their normally-fussy children love wearing Sticky Bibs, and don't want to take them off!
However, what makes Sticky Bibs so special and unique is how they're both disposable bibs and reusable bibs – not one instead of the other. As a result, they can be re-used as often as necessary until they become soiled, and then economically replaced with a fresh and new Sticky Bib. This is especially welcome news for parents who dislike how cloth bibs appear dingy after just a few washes, and how some unsightly stains are impossible to wash away. With Sticky Bibs, children always look their best – and have fun at the same time.
Plus, Sticky Bibs are lightweight to travel easily, which makes them incredibly versatile for use in all kinds of places outside of home, such as at the park, the mall, on holidays, at parties and social gatherings, on flights, and anywhere else.
In addition, Sticky Bibs have been rigorously tested by an independent certified laboratory and are free from potentially harmful additives. They're also latex-free.
"The guiding vision of Sticky Bibs has always been to give parents and consumers a real alternative to traditional cloth or disposable bibs," commented company founders Stan Hibler and Gary Hoerner. "Finally, with Sticky Bibs they now have that choice, and can enjoy the full benefits of a safe and quality-tested baby bib that stays in place, protects against soiled clothing, and is comfortable and fun to wear. Quite simply, Sticky Bibs was invented by a parent to help make other parents' lives easier."
Sticky Bibs are ideal for parents, grandparents, pediatricians, daycare facilities, retailers, dentists, and other groups or organizations that provide baby products or services. Sticky bibs also make ideal baby gifts.
Sticky Bibs are available now for purchase on Amazon.com
For more information or media inquiries, contact (East Coast) Stan Hibler at 614.284.4129 or (West Coast) Gary Hoerner at 303.814.8300.
About Sticky Bibs
Sticky Bibs, Ltd., is an industry developer and provider of professionally designed and unique products. With offices in Ohio, Colorado and Arkansas, the company's goal is to maintain its leadership position in providing sophisticated, innovative, and the premium high end products. Learn more at http://www.stickybibs.com.
###