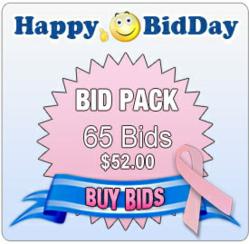 Penny auction site HappyBidDay.com puts a positive spin on the industry by giving back for Breast Cancer Awareness Month.
(PRWEB) October 04, 2011
HappyBidDay.com is proud to announce its first charity event for October's Breast Cancer Awareness Month! This highly reputable penny auction site is giving back in honor of one of our founder's mother who is a breast cancer survivor with a 10-year clean bill of health. HappyBidDay's founders are donating 5% of select bid package purchases to breast cancer research. This event is designed to draw cancer awareness and help a cause that is near and dear to the hearts of HappyBidDay. Help us celebrate healthy living, survival and encourage a cure!
"Breast cancer closely affects so many of us, and I know how tough it is for someone close to you to be struggling through a cancer diagnosis, treatment and recovery," said HappyBidDay Co-founder Kathleen Wood. "I'm just happy that HappyBidDay and all of our customers can help support this amazing cause while working to finding a cure."
About 1 in 8 women in the United States (12%) will develop invasive breast throughout her lifetime, but fortunately in 2010, there were more than 2.5 million breast cancer survivors in the U.S., according to BreastCancer.org.
We're kicking off our charity bid pack auctions for breast cancer awareness, so spread the word, and help us raise money for breast cancer research! All you have to do is visit HappyBidDay.com, and purchase a specially-marked pink bid pack. We'll donate 5% of the proceeds of the 65 bids pack to a breast cancer research organization. At the end of October, we'll announce how much money we have raised, and on HappyBidDay.com, we'll post a copy of the check sent directly to the charity.
Charity is just one positive aspect of penny auctions. Many like HappyBidDay strive to give back, and offer the best products and best discounts to customers.
About HappyBidDay.com
HappyBidDay.com is one of the fastest growing, most reputable penny auction sites in the United States. The penny auction allows its shoppers to score huge savings on brand new, brand name electronics, appliances, gift cards, jewelry, accessories and more in a fun, secure online environment. HappyBidDay is known for its excellent customer service, speedy shipping. and exclusive, robust loyalty rewards program. In this rewards program, loyal HappyBidDay customers rack up tons of free bids for registering, logging in daily, buying bid packs, inviting friends and celebrating a birthday.
In honor of a breast cancer survivor, this charity event is the first of many for HappyBidDay.com! Help us begin giving back to some amazing causes!
For more information, please review our website at http://www.happybidday.com, or email pr(at)happybidday(dot)com.
###