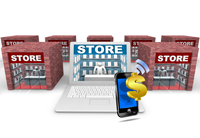 We were pleased to learn, through the Cross-Channel Checkup, that most retailers realize the importance of committing to an organizational cross-channel strategy

- Debbie Hauss, Editor-In-Chief of Retail TouchPoints
Hasbrouck Heights, NJ (PRWEB) October 03, 2011
The primary benefits of a comprehensive cross-channel strategy include improved loyalty (67%), improved customer service (61%) and increased brand interactions (54%), according to survey respondents, which included retail executives across a wide range of industry segments.
The Cross-Channel Checkup offers a number of other game-changing insights, including:

Empowering Store Associates: 27% of respondents already have armed store associates with mobile technology, and another 27% are planning to in the future;
Distribution Center Synchronization: 46% of retailers have all DC inventory available to all channels;
Free Shipping Policies Vary: 66% of retailers offer free shipping under specific circumstances, while 10% provide free shipping all the time for all products, and 24% report that they always charge for shipping;
Analytics Prevail: Retailers are committed to analytics, with sales analytics getting the most attention, implemented with 80% of respondents. Other popular analytics implementations include Web (73%), Customer (70%), and Marketing (60%).
"Cross-channel means so much more than just offering the same products online and in-store," said Debbie Hauss, Editor-In-Chief of Retail TouchPoints. "We were pleased to learn, through the Cross-Channel Checkup, that most retailers realize the importance of committing to an organizational cross-channel strategy. Additionally, they acknowledge that a successful cross-channel strategy is facilitated by a multi-faceted approach — including analytics, data synchronization, coordinated shipping policies and more."
Click here to download the complete, complimentary Cross-Channel Checkup report.
Retail TouchPoints is an online publishing network for retail executives, with content focused on optimizing the customer experience across all channels. Tapping into the power of the Web 2.0 environment, the Retail TouchPoints network offers a weekly e-newsletter with category-specific trend pieces, turnkey retail case studies, innovative solution spotlights and benchmark research. The Retail TouchPoints (RTP) editorial team covers retail industry trends and insights, and offers tactics and strategies around how retailers can effectively engage consumers. In addition, RTP offers connections to various resources that help demonstrate the value of the latest solutions and services. Visit our content-rich web site at retailtouchpoints.com.
###