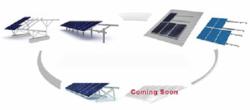 Denver, CO / Dallas, TX (PRWEB) October 05, 2011
As a total solar energy solution provider, Conergy is now offering a full portfolio of Conergy manufactured mounting systems for the North American market. The mounting system portfolio includes complete solutions for every type of PV installation – SunTop IV and the North American preview of SunTop Trapez for pitched roof; SunTop tilt units for flat roofs and a new aerodynamic solution for weight-limited flat roofs; Solar Giant, a ballasted ground-mount solution and SolarLinea a driven pile mounting system for free field. With 18 years of mounting systems experience, 1 GW of mounting systems sold and the combined expertise of project developers, wholesalers and formerly as installers, Conergy developed its mounting system portfolio to solve solar installation challenges faced in the real world.
An Aerodynamic Mounting Solution
Conergy will unveil its light-weight, limited ballast commercial roof mounting system at Solar Power International. This new system, leverages aerodynamic forces to decrease ballasting, enabling installation on rooftops that currently can't support a solar array. Visit the Conergy booth, number 1111, at Solar Power International for a sneak peak.
Conergy Mounting System Portfolio
In order to decrease installation time and costs, Conergy's entire mounting system portfolio arrives with extensively pre-assembled parts and pre-fabricated components to eliminate the need for drilling and cutting in the field. As part of Conergy's efforts to bring value throughout the PV supply chain, its mounting system portfolio is designed to simplify logistics and improve design flexibility. The patented QuickStone technology that is used across the portfolio, substantially simplifies and speeds installation while reducing shipping and inventory complexities. For example, the same 6 mm Allen Wrench is the main tool needed for installation for the entire portfolio. The flexible design and use of components that do not require expensive equipment for installation decrease or even eliminate expensive prep work and site modifications.
Conergy mounting systems are manufactured in Sacramento, California and Ontario, Canada to meet Ontario Power Authority local content requirements for Feed-in-Tariff eligibility.
View Conergy's mounting system portfolio at Solar Power International at Booth #1111. Conergy will unveil its aerodynamic and light-weight flat-roof mounting system at Solar Power International.
Smarter Design. Smarter Engineering.
Conergy designed its mounting system portfolio to decrease the total install time and cost, while improving the profitability of the total PV system. Each step of the project, from shipping and inventory to installation and switching costs, was evaluated in order to reduce costs and increase efficiency throughout the value chain. Conergy's mounting system portfolio is a synchronized system in order to make it easy for crews to quickly and easily learn the entire portfolio. All Conergy systems have high parts commonality and low tool and part count. Conergy's smarter engineering includes extensively pre-assembly of parts and pre-fabricated parts, significantly decreased parts counts, flexible designs and standardization of components to speed installation time, lower total installation cost and reduce complexities in design, logistics and installation.
As the world's only manufacturer of all the major components of a PV system including modules, inverters, mounting and monitoring, Conergy engineers used a system strategy approach to mounting system design. Focusing on system optimization, Conergy uniquely designed each mounting system to improve the durability of the entire system. For instance, since we are an entire system supplier, Conergy limits its rail spans in order to prevent stress on modules, compared to other mounting system providers who don't understand module durability and offer long spans.
Full Support. Full Service. Complete Product Portfolio.
As a manufacturer and distributor of PV products and services for any application, Conergy offers solar modules, inverters and mounting systems along with all project development services. Conergy continues to offer its Conergy PowerPlus, Conergy P and Conergy PH modules along with the Conergy ON, Conergy'sOntario FIT compliant module in the Ontario Province, and wholesale products from the solar industry's leading suppliers. Our Solar Large Projects group provides a full array of support for solar energy projects, from financing to EPC and from complex environmental and building permitting to O&M services. Conergy's mounting systems services include custom engineering, design assistance and technical support from its expert technicians and engineers.
About Conergy
As a full system manufacturer, Conergy Group delivers solar energy systems from a single source and offers all services under one roof.
Through deep-rooted operations in 18 countries, Conergy System Sales sells premium Conergy products to customers in nearly 40 countries worldwide. Conergy supports homeowners, installers, wholesalers and investors in their efforts to "go solar". With local sales activities on five continents, Conergy has close relationships with all its customers. Listed on the Frankfurt stock exchange, Conergy employs more than 1,700 people worldwide. Since Conergy's founding in 1998, it has produced and sold more than 1.5 GW of clean solar power, and developed over 500 MW of solar parks.
Conergy's Solar Large Projects Group manages the planning, financing, installation, monitoring, and ongoing operations and maintenance for turn-key solar projects across the globe. Conergy;s broad project expertise ensures maximum performance from every Conergy power plant..
Through its acquisition of well-established local companies, Conergy began operating as a distributor and project developer in North America in 2005 and currently has five offices, four warehouses and three production sites in the region. In North America, Conergy is both a manufacturer and wholesaler. Conergy manufactures mounting systems in Sacramento, CA. In Ontario, Canada Conergy produces modules and mounting systems that meet local content requirements for the Provincial FIT. Conergy offers innovative products and tailored services to its North American network of system integrators and project developers. Through these activities, Conergy maintains expert knowledge about local market conditions and requirements.
# # #