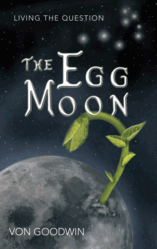 "Consciousness is thinking with awareness," says Goodwin. "The reality is that there will always be something there that may not be perceived."
Hoover, AL (PRWEB) October 03, 2011
Has anything remarkable happened today? After his mother's tragic death, Von Goodwin wanted answers from both medical and legal perspectives, which opened the doors of consciousness for him. Based on his personal experience and extensive studies, Goodwin showcases important truths in his new book, The Egg Moon (published by Balboa Press).
"Consciousness is thinking with awareness," says Goodwin. "The reality is that there will always be something there that may not be perceived."
The Egg Moon showcases that individuals have the power, through their consciousness to control their world. Goodwin exposes shortcomings in Western understanding of basic facets of history and spiritual beliefs through the lens of his personal experiences.
"The phenomenon displayed in The Egg Moon describes how the sensation of the speeding-up of time is an illusion based on creation," says Goodwin.
The Egg Moon proves that there is no such thing as coincidence: each person has the authority to shape his or her own life.
"Coincidence does not exist, divine orchestration does. And awareness of this concept increases one's consciousness. Has anything remarkable happened to you today?" says Goodwin.
Egg Moon
By: Von Goodwin
ISBN 9781452534169
Available at http://www.amazon.com and http://www.barnesandnoble.com
Price: $17.95
Additional Information: http://www.vongoodwin.com
About the author:
Von Goodwin is a business consultant, personal coach and author of books and articles revealing the role of the individuals in creation. Since 1985, he has worked with thousands of individuals throughout the US and the Caribbean to rediscover ancient wisdom to enrich personal lives. Goodwin currently resides in Hoover, Alabama. He stays grounded by maintaining his lawn and gardens and harvesting rainwater.
**FOR IMMEDIATE RELEASE**
EDITORS: For review copies or interview requests, contact:
Megan Giannini
Tel: 317.602.7137
Fax: 317.536.3775
Email: mgiannini(at)bohlsenpr(dot)com
(When requesting a review copy, please provide a street address.)
###