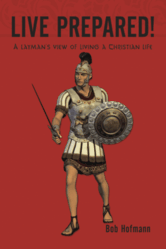 "We need to be attentive and prepared to fulfill our purpose in living," says Hofmann.
Billings, MT (PRWEB) October 03, 2011
How do we find the deep answers about life in the Bible?
The Gospel of Jesus has been told for centuries but often in wording that is complicated and difficult to understand. In his new book, Live Prepared! (published by AuthorHouse), Bob Hofmann not only presents the Gospel in everyday language but also showcases the means by which we can have abundant life now.
"We need to be attentive and prepared to fulfill our purpose in living," says Hofmann.
Live Prepared! contains deep truths about God without being intimidating – it's simply the Good News of Jesus Christ written for everyone.
"Everyone is searching for the truth of our existence and the purpose in life," says Hofmann. "Live Prepared! not only provides answers for those who seek a spiritual awakening but also who want to deepen their faith in God."
As many seek clear answers about finding the purpose in their lives, Live Prepared! brings to light important truths about the Bible, written by a common man. People can easily relate to the important message within this book: God is real, loving, and approachable, and He awaits those who will humble themselves and be obedient.
Live Prepared!
Bob Hofmann
ISBN: 978-1-4567-3862-4
Paperback $13.95
Available for purchase at http://www.amazon.com and http://www.barnesandnoble.com
About the author:
Bob Hofmann was born to a good Christian family and attended church regularly as a youth. He is married to his wife, Peggy and has four daughters. He works as a salesman for Hanson Chemical. Providence has led Bob to be in the body of Christ led by gifted teaches and devout men of God. In search for God's will and mission for his life, Bob was led to use his gifts to present the simple gospel and way of Christian living for those seeking meaning and purpose in life. For more information about Bob and his new book, visit http://www.bobhofmann.com.
EDITORS: For review copies or interview requests, contact:
Megan Giannini
Tel: 317.602.7137
Fax: 317.536.3775
Email: mgiannini(at)bohlsenpr(dot)com
(When requesting a review copy, please provide a street address.)
###