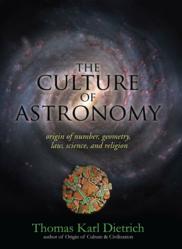 Minneapolis, MN (PRWEB) October 02, 2011
Are you curious about ancient wisdom and where logic, law, science and government first originated? Did you know that mystical holy numbers such as 3, 5, 6, 7, 11, 12, 13, 20, 40, 72, and 144,000 come directly from simple astronomy? This is the Culture of Astronomy.
Evolution, the Big Bang, Pangaea, and Global Warming (the major theories of modern science) are alarmingly presented as straight-line in progression –even though everything we see in nature and astronomy proceeds in cycles. This is one of the many fascinating topics explored in The Culture of Astronomy. The global economic collapse came from economists and the Stock Market failing to think in cycles. This work also looks at the misinterpretation of Global Warming as a linear phenomenon, which is a mistake we cannot afford to make again—our survival depends upon it.
The Culture of Astronomy is an insight to the highest levels of ancient wisdom derived from the study of astronomy and the cosmic cycles. It is the origin, the fountain-head and mother science of the ideas that have formed the groundwork of our modern world.
Author Thomas Karl Dietrich draws upon a lifetime of investigation and travel to ancient cultures to unfold a truly balanced, perpetual, and harmonious universe where humans, God, nature, and physics were interwoven and interrelated through cosmic cycles, number, geometry, and proportion.
###