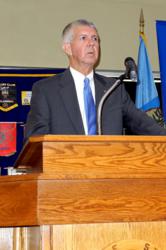 They hated our government and our form of government.
(PRWEB) October 02, 2011
Oklahoma State Supreme Court Justice Steven Taylor, who presided over the state trial of Oklahoma Bomber Terry Nichols, told a Constitution Day crowd at Rose State College that ideas enshrined in the founding document are in peril and need support.
"Today, I want to suggest that we need to give our country some attention on this Constitution Day," Taylor told the audience. "Our economy is suffering; we are the midst of three wars and in the midst of a political season. Today, I am asking that we think of the common ground… our common dreams and hopes for this nation to succeed and to be the shining city on the hill as described by President Ronald Reagan."
Taylor told the capacity crowd, which gathered at a noon luncheon Monday, Sept. 19, in the Student Center dining hall, that he had experienced a "clash of the Constitution" while presiding over the state trial of Nichols. Nichols was convicted of murder in the 1995 Oklahoma City bombing during the most expensive state trial in Oklahoma history.
"All the important standards of the Constitution came to bear in that case," Taylor said. "Terry Nichols, a citizen of the United States of America, was entitled to a fair trial. I did everything within my power, it was the greatest challenge I have ever had in all of my professional life, to see to it that Mr. Nichols and the State of Oklahoma had a fair trial."
Taylor said the crime by Nichols and his co-conspirator, Timothy McVeigh, was perpetrated because of their hatred for the Government.
"They hated our government and our form of government," he said. "In the end, when I sentenced Mr. Nichols, I looked right into his eyes, and I said, 'Mr. Nichols, it is ironic that the very government you hated so much was big enough and strong enough and good enough to give you a fair trial.' That is the ultimate test of our Constitution."
In the end, Taylor urged the crowd to ask their representatives, and each other, to seek common ground instead of differences—and to seek justice for fellow citizens.
"I detest intolerance, racism, hateful and ugly words meant to hurt and divide people, words that foster stereotyping, words that divide our country for political or other gain," Taylor said. "It is un-American to divide this nation when what is important is to unite it around the Constitution…I ask you today to join me to never condone hateful, divisive words in our society."
Rose State College is a community college in Midwest City, Oklahoma. The speech was given in honor of Constitution Day sponsored by the college's Social Sciences division and by the James F. Howell "Country Lawyer" Lectureship. The purpose of the program is to help the Rose State community and visitors better appreciate the U.S. Constitution's place in the history and law of the country.
###