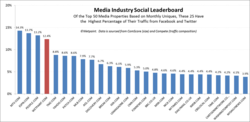 The Media Industry Social Leaderboard, which Wetpaint will be publishing monthly, offers the industry a view into who is succeeding and failing at reaching and retaining audience via the social Web.
Seattle, WA (PRWEB) October 03, 2011
Wetpaint, a next-generation media company, today announced that Wetpaint Entertainment is ranked number four, when compared to the 50 largest and most important digital media properties, at garnering audience via Facebook and Twitter. The company released its "Media Industry Social Leaderboard" today, a chart that was developed by tabulating the top 50 media publishers, based on monthly unique visitors, and then determining which were best at generating traffic from Facebook and Twitter. Wetpaint Entertainment was then added to the list and was significantly better at pulling traffic from these two social media networks than major media brands such as The New York Times, The Huffington Post, CNN, Fox News, TMZ and others. The only three with a stronger percentage pull from Facebook and Twitter from this group are MTV, ESPN, and People. Only four out of the top 50 media publishers that generate substantial traffic from the primary social media networks were in the double digits while over half had less than 6% of traffic coming from these networks. (Please see Addendum)
In addition to attracting audiences from the social Web, Wetpaint also examined audience retention. Wetpaint measured the visit frequency to each of the publishers (excluding the portals) and found a striking correlation to their sociability. The performers above median in social saw an average of more than five times as many "addicts" (visitors who come 30+ times per month) as a proportion of their audience, according to data from Quantcast, compared to those below the median; and they saw a corresponding reduction in their "passers-by" (visitors who come only once) from 56% to 40% of their visitors. These patterns map overall into an estimated three times the visit frequency per audience member for these top performers.
The Media Industry Social Leaderboard, which Wetpaint will be publishing monthly, offers the industry a view into who is succeeding and failing at reaching and retaining audience via the social Web. Based on analysis by Wetpaint Co-Founder and CEO Ben Elowitz, published on AllThingsD.com, the social Web is capturing a dramatically increasing share of users' attention – with internet users collectively increasing the amount of time they spend on Facebook by 69% over a one-year period – while usage for the entire rest of the Web, excluding Facebook, shrank by 9% over the same period. The Media Industry Social Leaderboard will track the success of top media properties against this critical trend.
"Our goal is to be a leader in building media properties on the social Web," said Ben Elowitz, Co-Founder and CEO of Wetpaint. "High social traffic is a hallmark of audience loyalty, so we are deeply committed to mastering major social channels on the Web to gain audience."
Wetpaint makes about 30 Wetpaint Entertainment branded impressions per month on each of its million Facebook fans. In many cases, it has a greater presence on its audience's Facebook pages than their real-life friends.
In its research and continual iterative experimentation with social media distribution, Wetpaint has also discovered the following:

Entertainment is, far and away, the most social topic. Among the top 50 largest web publishers, sociability varies hugely by topic. Entertainment properties account for four of the five top pure-play publishers (including Wetpaint Entertainment) in the chart; and, on average, they proved to be two and half times more sociable than news.
News travels fast through social networks. General news secured nearly 50% of the 25 top spots in the Media Industry Social Leaderboard. The real-time nature of breaking news makes it a natural match for viral distribution; and people earn real-life social capital for being first-to-recommend a relevant story. Plus, national and world news is something that people have in common with those that they are friends with, or followed by.
About Wetpaint
Wetpaint is a next-generation media company that uses its proprietary state-of-the-art technologies and expertise in social media to drive and monetize audiences. The company is creating a portfolio of best-in-class media properties; the first, Wetpaint Entertainment, delights 18-34 year-old women with in-depth coverage of their favorite TV shows, stars and fashion. Wetpaint Entertainment attracts more than three million unique visitors and 15 million page views monthly. It also has over a million Facebook fans. Founded by Internet pioneer Ben Elowitz, and with offices in Seattle and New York, Wetpaint is backed by Accel Partners, the investors behind Facebook and Groupon.
# # #