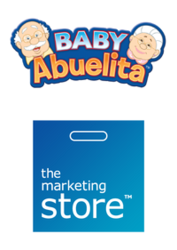 The partnership will also expand our product line beyond plush with cost competitive high quality items focused on the grandchild and grandparent relationship -- Carol Fenster, Baby Abuelita
Miami, FL (PRWEB) October 03, 2011
Baby Abuelita Productions, creator and distributor of iconic Hispanic singing grandparent dolls and children's media, announced today that it has inked a deal to rapidly expand its product line by partnering with The Marketing Store's toy development and global supply chain capabilities.
"This strategic partnership will not only bring economies of scale to our operations while providing access to The Marketing Store's product development capabilities, but it will allow our company to grow globally and to add new ethnic versions of our beloved grandparent characters. The partnership will also expand our product line beyond plush with cost competitive high quality items focused on the grandchild and grandparent relationship," said Carol Fenster, CEO and co-creator of Baby Abuelita.
The deal also brings growth opportunities to The Marketing Store as its retail toy division extends design, production, and distribution services to toy companies interested in expanding their product lines. The Marketing Store has a decades-deep tradition of toy development success in the B2B sector, providing high quality premium toys and marketing services to consumer packaged goods (CPG) companies and quick-service restaurants.
"It's an extraordinary opportunity for The Marketing Store to tangibly demonstrate our commitment to supporting women-owned businesses, and broaden the reach of Baby Abuelita's brand by creating high value cost competitive items to be sold within the nation's largest retailers," said Ned Flanagan, SVP of New Product Business Development. Where The Marketing Store benefits from Baby Abuelita's unique brand position in the Hispanic and senior marketplace as well as their retail customer relationships, Baby Abuelita benefits from The Marketing Store's longstanding design and engineering capabilities, top vendors, youth and family research and time-tested quality assurance processes.
"From day one, Baby Abuelita's story has been a combination of David and Goliath and The Little Engine That Could. This extraordinary partnership is taking that story to a new level," said Fenster.
About Baby Abuelita Productions
Winner of numerous children and parenting awards including NAPPA, IParenting, Mom's Choice and Creative Child, Baby Abuelita Productions offers a collection of unique dolls, books and home animated videos that keep Hispanic culture alive and relevant by making it easy and fun to share traditional Spanish language lullabies. The 'Grandma' and 'Grandpa' dolls are modeled after typical Latin American grandparents and preserve musical traditions gone but not forgotten for all generations of Hispanic families. http://www.babyabuelita.com
About The Marketing Store
The Marketing Store is one of the world's largest brand activation agencies as well as one of the largest toy manufacturers in the world, a producer of premium toys by the hundreds of millions each year. Its retail toy division offers full research and testing capabilities, and designs and contract manufactures toy lines to help extend the toy lines of many popular toy brands. The Marketing Store is part of the HAVI Group, a privately held company headquartered just outside Chicago with over 8,000 employees serving 100 countries worldwide. Visit themarketingstore.com for more information or follow @marketingstore on Twitter.
###