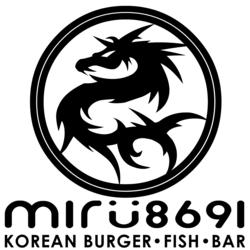 Airing Monday, Oct. 3 on Food Network, Crave episode "Burgers: Between the Buns" takes host to Los Angeles where he finds his perfect burger at Miru 8691
LOS ANGELES, California (PRWEB) October 03, 2011
Miru 8691, a Beverly Hills Korean burger and fish restaurant, will be appearing on Food Network's Crave on October 3 at 8:30 p.m. EST/PST. The show features host, food writer Troy Johnson, on a cross-country quest to find the perfect burger, eventually landing him in Los Angeles at Miru 8691, where he finds the "burger of his dreams" prepared by chef Miru Jung.
Crave takes viewers across the country to find the ideal versions of the foods that Troy Johnson craves. On this "Burgers: Between the Buns" episode, Johnson travels from the east coast to the west coast where he finds his ideal burger in Los Angeles at Miru 8691.
"It is truly an honor to be featured on this show, and I am even more thankful that Miru 8691 is the restaurant where Troy found his perfect burger," said Chef Miru.
Miru 8691 offers a one-of-a-kind Asian-Fusion experience, blending unique ingredients and gourmet presentation with otherwise standard food items such as burgers and sushi rolls. An example of this fusion is the popular Kalbi burger, which infuses filet mignon cubes cooked directly into the burger patty.
ABOUT MIRU 8691:
Tucked in the corner of a typical Southern California strip mall, Chef Miru and his brother, Calvin, are cooking up some of the most innovative and delicious culinary creations Los Angeles has ever seen. The hidden gem of Beverly Hills features some of the highest rated burgers in America, creating a truly unique experience even for the most exacting upscale palettes. For more information on Miru 8691, please visit http://www.miru8691.com
###