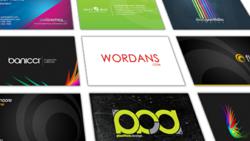 Montreal, Quebec, Canada (PRWEB) October 10, 2011
Montreal based Wordans.com announced further expansion in the on-demand printing market today with the addition of business card printing services to their online marketplace. The Wordans business card printing service allows customers to upload their designs and print as little as 100 cards at a time, ready to be shipped internationally within 48 hours. Customers can currently choose single or double-sided printing, card size, paper type and finish. The company is also offering printing on 100% recycled paper as an option for the environmentally conscious.
With this new service, Wordans is promoting the contextual business card movement. Eric Gautier, president of Wordans.com, commented on this initiative, "Due to advances in, and availability of on-demand and short-run printing, entrepreneurs and service providers now have the ability to create meeting and event-specific business cards to represent themselves more effectively to potential clients."
Eric Gautier's Business Card Design Tips:
Consider your business card not only as a medium of contact exchange but also as a flyer for your services. Take advantage of short-run printing to create a business card tailored to the clientele that you will be meeting.
1.Include a reference to the event, trade show, conference or meeting that you and your potential clients will be attending.
2.Make sure the card contains a short description of your service in plain english. Try to avoid generic terms so that your message stands out.
3.If you are tempted to use a non-standard shape or size for your business card, make sure it is smaller than the standard 3.5" x 2". This makes it easy for your card to be stored, thereby increasing the likelihood that it is retained and filed.
4.Ensure that no matter how creative your use of colors and fonts, your card remains scanner and photocopier friendly. A good way to test this is by printing a full color proof and then making a black and white photocopy to verify legibility.
Wordans.com is a Montreal based online retailer of custom apparel and accessories. The company's product line includes t-shirts, hoodies, sweatshirts and other apparel as well as posters and large format prints, and iPhone and iPad skins. The company, founded in 2009 by Eric Gautier, ships its customized products internationally.
###