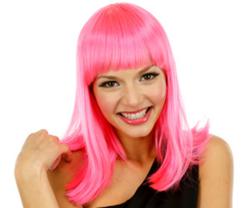 Wigs.com believes that to wear a pink wig is to support this ambitious cause.
Dallas, TX (PRWEB) October 04, 2011
This month has the Wig Experts at Wigs.com buzzing with excitement. Why? October is official Breast Cancer Awareness month, and the team has big plans for charitable giving this year. Wigs.com has pledged to donate a portion of all October proceeds to BrightPink.org to help in the fight against cancer.
When the site was selecting a cause in which to participate for its philanthropy, Wigs.com stated that the BrightPink organization was "a natural choice." BrightPink.org's mission is to empower women to be proactive instead of reactive and to see themselves as advocates for their health – not victims of a disease. Similarly, the goal at Wigs.com is to empower women through education, and the site saw a reflection of its passion in the BrightPink organization.
Breast Cancer Awareness month surrounds a cause that is very dear to Wigs.com. The website showcased over 15 of its top selling costume wigs and photographed them in the color pink. The objective for this special photoshoot was to inspire women to wear pink wigs in support of the breast cancer cause. Wigs.com believes that to wear a pink wig is to support this ambitious cause, so visitors are encouraged to wear costume wigs in the color pink to Race for the Cure events and the like. Many women living with breast cancer are going through chemotherapy and may wear wigs due to hair loss; so as the Wig Experts see it, wearing pink wigs for Breast Cancer Awareness month is just another form of support.
"Pink wigs are a great way to show your support during Breast Cancer Awareness month," says Wigs.com. Every year the entire Wigs.com staff participates in the Susan G. Komen Race for the Cure and wears pink wigs – bob wigs, afro wigs and a wide variety of other pink styles. In fact, the 'Wigs.com for the Cure' team was featured in both the 2010 and 2011 Race for the Cure pamphlets and hopes to make headlines again with even crazier pink wigs worn at this year's race. Whether it is Breast Cancer Awareness month or another special event, the website says that their passionate employees always try to find reasons to wear costume wigs throughout the year as "Nothing spices up a night out like a pink wig."
Visitors can watch exclusive video on the Wigs.com Pink Wigs movement and shop their selection of costume wigs available in pink. Wigs.com wants their clients to know that their purchase during the month of October helps a good cause, joining Wigs.com and BrightPink.org in the fight against breast and ovarian cancer.
About Wigs.com
Wigs.com is the leading hair shopping network building its trusted name for 15 years by partnering with Celebrity lines such as Raquel Welch, Jessica Simpson, Vivica A. Fox, Beverly Johnson, and many others. This has helped bring celebrity-inspired styles to millions of customers looking for the perfect hair solution. Only the best in wigs, hair extensions, hair pieces, care products and accessories are represented on the site. The company has separated itself from the competition in the expertise and education offered to the public. Over the years, Wigs.com has established its name as the best source for alternative hair and related products.
###